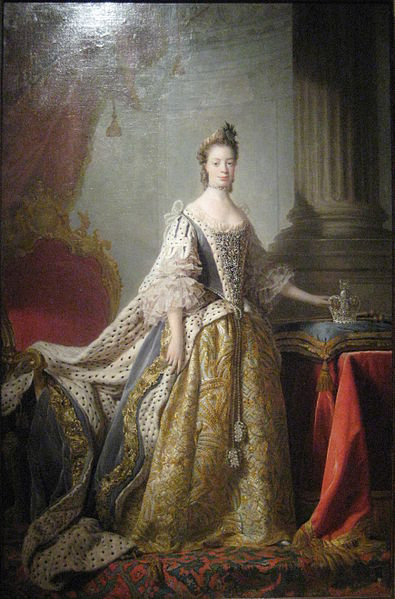 Queen Charlotte of Mecklenburg-Strelitz is the subject of this portrait painted by the Scottish artist Allan Ramsay (1713-1784). He became the Principal Painter in Ordinary to King George III in 1761. This painting was completed in 1762. I can only assume that this painting is unsigned because I have seen it attributed directory to Ramsay as well as to his studio.
Queen Charlotte (1744-1818) is well-remembered for her own artistic contributions – as a patron. She patronized musical composers like Johann Christian Bach (son of Johann Sebastian) and Wolfgang Amadeus Mozart. She enjoyed the works of George Frideric Handel, a fellow German, as well. She made numerous contributions to the field of botany and Kew Gardens and the scientific name for the Bird of Paradise flower was named Stelitzia reginae in her honor. She was a champion of education for woman and founded several orphanages and a hospital for expectant women. She had 15 children, 13 of which lived to adulthood. She was the consort for 57 years and 70 days. Only, the Duke of Edinburgh, Prince Philip, royal consort to the current British queen, has served longer (they were married in 1952).
This portrait, currently residing in a museum in Russia, shows a regal Queen Charlotte wearing an exquisite gown, trimmed with what's probably ermine, beads and embroidery. A blue and gold pillow rests upon a side table covered with a red tablecloth. She rests her hand on her crown which is nestled on the pillow. The painting also captures a beautiful rug. There's a stone pillar, a draped curtain and part of her throne in the background which completely lacks the dimensional quality of the rest of the piece. Some of the throne is very much one-dimensional, while the arm of the throne appears more present in the work and catches up part of the Queen's gown.
I've included this version of the painting which was shared by Wikipedia user Shakko because despite the bit of flash glare, their photo shows the most detail of the Queen's dress.