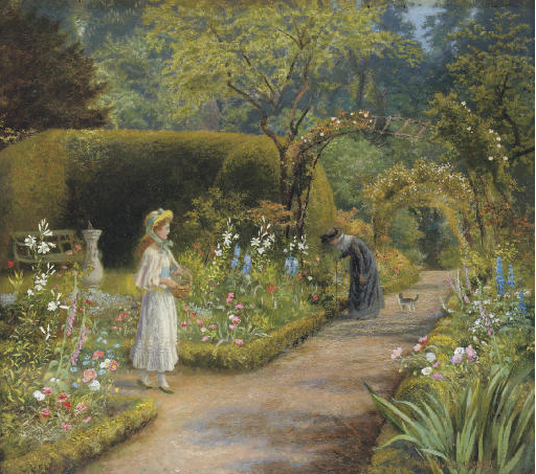 This oil on panel garden painting by the English artist Arthur Hughes (1832-1915) measures 31.1 by 34.9 cm.
This charming flower garden painting is undated but it is believed that Hughes completed the work around the time of his Royal Academy exhibit in 1864. An old label on the back of the painting identified this painting as A visit to Grandmother but a Hughes biographer suggested that it may actually be The Visit. Either way, we clearly have a young girl approaching an older lady and her cat in a beautiful garden.
Pink, blue and white flowers add bright spots of color amongst the greenery which covers much of this work. The young girl is wearing a white dress with a blue sash and a hat, held on her head by a matching blue bow.
This work had remained unseen publicly since it was sold by the Hughes estate in 1916. It sold at auction for $20,580 in 2007.
Please visit our biography and gallery of works by Arthur Hughes to learn more about the artist and see his other lovely paintings.