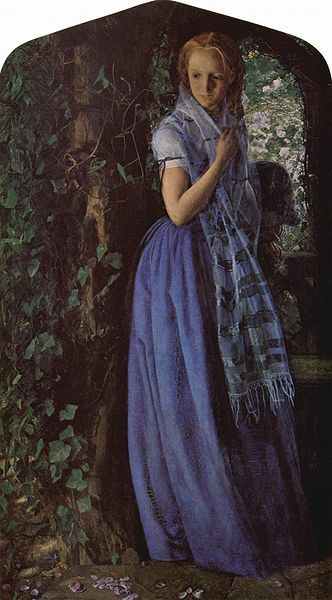 April Love is one of artist Arthur Hughes' (1832-1915) earliest and most famous works. This oil on canvas painting depicts a lovely young women in a blue dress and blue scarf looking as if she is hiding from someone.
Somewhat invisible and hidden by her flowing purple dress and multi-colored scarf is a suitor. He holds her hand, yet she clearly is not enjoying the attention. With rose petals scattered at her feet, perhaps the two have had a lover's quarrel and the petals were once flowers the suitor had presented to her. Or perhaps they represent the end of spring and young love.
John Ruskin (1819-1900) after seeing the painting unfinished suggested Hughes name the piece "Hide and Seek". Hughes wrote to friend William Allingham that the fictitious girl in the painting was "rejoicing in the more graceful title of "April Love."
But, one must wonder just how fictitious the lovely girl with her flowing red hair is. Tryphena Ford, whom Hughes married in 1855, bears a striking resemblance to the beautiful girl in this painting.
Ruskin was an English art critic and social thinker. He, like Hughes supported the pre-Raphaelite movement. He wrote of the finished April Love, "Exquisite in every way; lovely in colour, most subtle in the quivering expression of the lips, and the sweetness of the tender face, shaken like a lead by winds upon its dew, and hesitating back into place."
April Love was first exhibited at the Royal Academy of Arts in 1856. Hughes displayed a few lines of Tennyson with the work;
"Love is hurt with jar and fret,
Love is made a vague regret,
Eyes with idle tears are set,
Idle habit links us yet;
What is Love?
For we forget.
Ah no, no."
from "The Millers Daughter."
April Love was originally acquired by William Morris. It is now part of the Tate Britain Collection.