Home » Spitzweg, Carl
Carl Spitzweg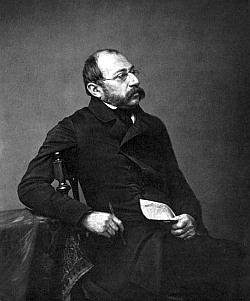 There's a certain irony when it comes to the works of Carl Spitzweg. More ink has been used to describe his paintings than his life and his much-loved paintings are among the most targeted by thieves.
Germans rank Spitzweg's The Poor Poet second only to Leonardo da Vinci's Mona Lisa among their all-time favorite paintings. It is small compared to most paintings and at only 36 X 45 cm has proven a fairly desirable target for thieves. The Poor Poet has been stolen twice. A daring day-time robbery in 1989 that involved speed and the ruse of a wheelchair-bound art patron left the Charlottenburg Palace in Berlin without this famous painting and The Love Letter, another much loved work by Spitzweg. Both paintings remain unaccounted for.
In 1992, the German Federal Crime Department added 36 Spitzweg paintings to their list of missing works; leaving the art world to assume that all 36 works had been recently stolen from their owner(s).
Spitzweg is unlike most of the other artists profiled on The Famous Artists. His works are not so admired for their technique or school of painting as much as they are for their subject matter. Spitzweg often included satire within each work and instead of creating just a portrait or a landscape, he created a humorous look into life in the middle class. One historical reference of the artist referred to him as a "genius who united in himself three qualities which seem to be contradictory – realism, fancy and humor." Many in the art world liken viewing his paintings to wandering through an old German town of the 1840s.
Carl Spitzweg was born in 1808 in Unterpfaffenhofen. He was the middle son of the wealthy merchant Simon Spitzweg and his wife Franziska. He completed his studies at the University of Munich and become a pharmacist. His interest in painting came later, while recovering from an illness. He learned by copying the works of Flemish masters. His early works were contributions to satiric magazines.
It wasn't until 1833, when an inheritance made him financially independent, that Spitzweg was able to dedicate all of his time to his art. He studied John Burnet's (1781/4-1868) Treatise on Painting. He continued a course of self-study by visiting a number of the great European art centers including Belgium, London, Paris, Prague and Venice. In 1851, he toured Europe with Eduard Schleich (1812-1874) and other artists and visited the World Exhibition. He is known to have copied the works of the Baroque and Dutch Golden Age painters Nicolaes Berchem/Berghem (1620-1683), Gonzales Coques/z (ca. 1614-1684), one or both of the Ostade brothers and Cornelis van Poelenburgh (1594-1667).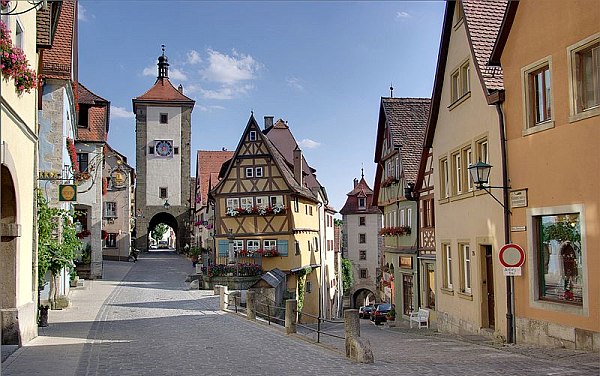 He lived alone in a small garret room perched above the Bavarian town of Rothenburg, Germany (shown here). He lived a fairly monastic lifestyle and his primary visitor was the Austrian painter Moritz Schwind (1804-1871) He often seen gazing down at the town below, perhaps seeking inspiration and details for a current or future work.
At the time Spitzweg was living there, Rothenburg was a city on the decline full of medieval architecture, stone decorations and historical relics. Preservation, Tourism and Nationalism – The Jewel of the German Past, written by Joshua Hagen includes two quotations he attributes to Spitzweg about Rothenburg. Spitzweg described the town as "a little walled gothic-schwabian nest (Nestlein), full of architectural jewels, that one would pay millions for, if they could be moved." He further described Rothenburg as "a former Reichsstadt, once with a much greater population, flourishing trade and industry, but gradually declining and now pushed entirely to the side by the railroad."
Another artist, the American Toby Rosenthal would later liken visiting Rothenburg with stepping into a fairy tale. The two artists helped to bring renewed interest in the town and today there are strict regulations that protect the historic buildings.
Perhaps it comes from living in a fairy tale setting or the fact that he was a pharmacist prior to picking up paint brushes and began painting for the sheer joy of it, Spitzweg's work captures a bit of our humanity as it pokes fun at life in general. Carl Spitzweg died in 1885 and is considered to be one of the most important artists of the Biedermeier era.
Whether it was simply because he was a non-jewish artist, a German artist or his ability to capture German life as it was in the early-to-mid 1800s, Spitzweg's work was highly sought after by Adolph Hitler. Spitzweg was a particular favorite. Some believe that Hitler's first serious purchase around 1929 was the Spitzweg seen around that time in Hitler's apartment. The Fuhrer's interest in Spitzweg and other German artists created a huge increase in demand for the German paintings. That demand caused favored artists' works to escalate in price by as much as 500 percent in the years leading up to World War II.
In researching this article for The Famous Artists, what became increasingly clear was that people are far more familiar with the works of Carl Spitzweg than they are with the artist himself. Quite a few of his famous paintings are often used as literary metaphors. For example, a book about German copyright law changes referred to The Poor Poet as a circumstance hopefully no longer suffered by artists and writers in part due to greater protections of their work.
Few articles and books contained much more than a brief mention of the artist and the Biedermeier and Austro-Bavarian genre painting style he followed. Several referred to him as the German Norman Rockwell, referencing the American artist most well known for his depictions of middle class life which often adorned the cover of The Saturday Evening Post. And like with much of the material I've found when researching artists profiled on The Famous Artists; some lauded the charm and nostalgia but strove to convince the reader that Carl Spitzweg was perhaps given more notoriety than his painting skills entitled him to.
I discovered one of his paintings before I started researching about his life. The Butterfly Hunter just makes me smile every time I see it. In it we have an intrepid naturalist with a tiny butterfly net coming upon two giant blue butterflies. It's the small details, like the eyes of the naturalist being hidden behind glasses reflecting the light, his exclamation of surprise, the canteen hanging on his hip and the bright red umbrella he is carrying that all work together to transform the work from scientific to fun.
The second painting I found was his Scholar of Natural Resources. What absolutely grabbed my attention was the pair of skeletons in the background, looking as if they are walking out of the jungle mists accompanied by a primate. In the nearer foreground the skeletal head of what is perhaps supposed to represent a dinosaur looks as if it is watching over the scholar and perhaps debating in stealing whatever it is that the scholar appears to be holding in his hand. The overall impression is one of the absent-minded professor, surrounded by artifacts of his profession but somewhat careless in their storage. The painting is fairly small and unfortunately, the picture I was able to obtain doesn't do it justice.
Selected Paintings by Spitzweg