Home » Olrik, Henrik
Henrik Olrik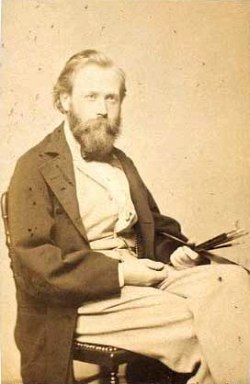 Ole Henrik Benedictus Olrik was born in Copenhagen in 1830. His father, Henrik Johan Ludvig Olrik was a customs inspector and his mother was Benedicte Martinette Hieberg Olrik.
Olrik originally studied to be a sculptor. He was admitted as a student of Herman Wilhelm Bissen at the Royal Danish Academy of Fine Arts at the age of 14. While a student at the Academy, Olrik also worked at the Royal Copenhagen Porcelain Factory. Olrik won silver medals in 1848 and 1851 for his work and graduated from the Academy in 1851.
Around 1853, Olrik and E. Vieth won the Neuhausenske Prize for a silver sugar bowl they designed.
He moved to Paris in 1854. While there, he studied with the famous French painter and teacher Thomas Couture (1815-1879) and in 1855 had his first exhibition.
Olrik returned to Denmark in 1855. He became a sought after portrait painter and painted  portraits of King Christian IX of Denmark, Henrik Ibsen and other well-to-do members of Scandinavian society. Along with portraits, Olrik painted landscapes, religious paintings and still lifes. One of his most famous paintings is a mural and altarpiece depicting the Sermon on the Mount in St. Matthew's Church in Copenhagen. St. Matthew's, completed in 1880, is the oldest and largest church in the Vesterbro district.
In 1859, Olrik married Hermine Valentine. The couple had five children, Benedicte, Dagmar, Axel, Eyvind, Hans and Jørgen.
Olrik joined the Royal Danish Academy of Fine Arts in 1871 and became a Professor Titular in 1883. In 1887 he was elected to Akademirådet.
Throughout his career, Henrik Olrik was active in the decorative arts and design. His designs were used on coins, tableware, bindings and sables. He worked for the Royal Copenhagen Porcelain Factory and a number of other manufacturers. A monument for Tsar Alexander II of Russia was designed by Olrik. (Tsar Alexander III married Maria Feodorovna, the second daughter of King Christian IX of Denmark and perhaps the commission for the monument came through Olrik's ties to the Danish royal family. Unfortunately, the Wikipedia article did not mention which one of the monuments built to honor "Alexander the Liberator" he designed and whether or not Olrik's design was actually utilized.)
Ole Henrik Olrik died in 1890.
Selected Paintings by Olrik