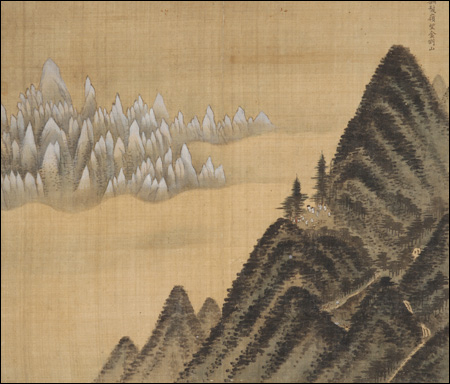 This is one of the numerous paintings of Mt. Geumgang by the famous Korean artist Jeong Seon (1676-1759). I've already told you about the mountain, it's seasonal names and it's history in Gueumgang jeondo.
This painting, depicts the section of Mount Kumgang referred to as Inner Kŭmgang. It is noted for its views and the Manpok ravine and is located in present-day North Korea.
Jeong Seon was painting out in the open almost 200 years before European artists would coin the phrase en plein air. His true-view landscape painting style is evident in this lovely piece which Jeong included in The Album of Mt. Geumgang. The Album was issued when the artist was 36 and is though to have solidified his place in the history of Korean art.
The formation off in the background is not clouds, it's the 12,000 granite peaks within this mountain range. In the foreground we see a peak with pine trees and one of the many waterways found within the region.