The Famous Artists » Kim Hong-do
Kim Hong-do
Famous Paintings by Kim Hong-do
---
Biography of Kim Hong-do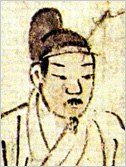 Kim Hong-do is the first Korean artist profiled on The Famous Artists. He lived from 1745 to around 1806 during the Joseon period. He spent his childhood years in present-day Ansan, South Korea. He was taught by the famous calligrapher Pyoam Kang Sehwang (1713–1791).
He became one of the official painters of the Joseon court where he drew King Jeongjo's (1752–1800) portrait.
Kim Hong-do, who painted using the name Danwon, is thought to be the first Korean painter to primarily paint scenes depicting the everyday lives of Koreans. His paintings provide great insight into life during the Joseon period but are also treasured for their aesthetic value.
Danwon, along with Hyewon (b. 1758) and Owon (1843-1897) are referred to as the "Three Wons". However, Danwon, Owon and An Gyeon (15th century) are considered the three greatest painters of the Joseon period.
Ansan holds an annual Danwon Art Festival, named the district of Danwon-gu for the artist and designed a number of public places in imitation of his works.