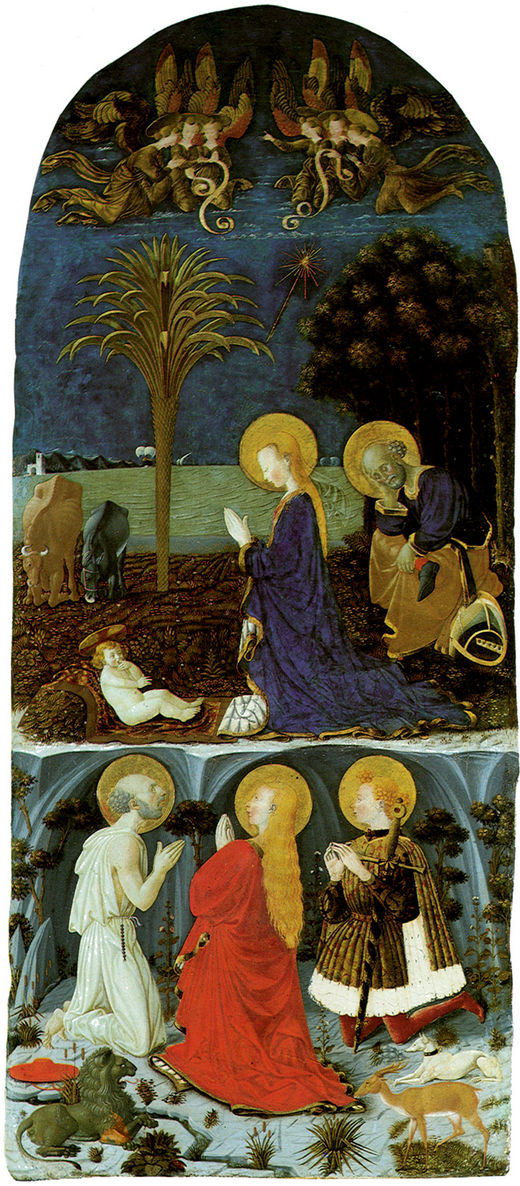 This painting is actually identified with the title Adoration of the Child with Saint Jerome, Saint Mary Magdalene and Saint Eustache.
Let me tell you a little bit more about the artist as well as this work. This famous Nativity painting was completed between 1431 and 1432. It is comprised of tempera on a panel which measures 110 by 47 cm.
It was painted by Paolo Uccello. Uccello was born in Italy in 1397 and was already on his way to becoming a professional artist by the age of ten. Professionally, he painted primarily what was in demand – Biblical scenes. His passion was painting animals, trees and the landscape. In this painting we have several examples of that in both sections of the panel.
There's also a significant amount of detail for a painting of this period – notice the almost mosaic look of the rushes the Holy Family is resting upon.
Uccello had not yet become a father when he painted this work which could perhaps explain the amount of hair and the size of newborn Jesus. The Virgin Mary kneels at the feet of her son, praying. While a host of angels watch over the family and the three Saints.