Home » Nasmyth, Patrick
Patrick Nasmyth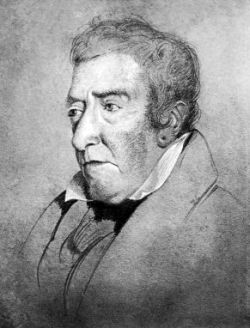 Patrick Nasmyth was born on January 7th, 1786 in Edinburgh, Scotland. His father, Alexander Nasmyth, a well-known landscape painter, named his eldest child for his dear friend Patrick Millar of Dalwinston, who was one of the inventors of steam navigation. Patrick's youngest brother, James, would become a prominent engineer and invent the steam hammer and several of the siblings would become painters like their famous father and brother. In total there would be four sons and seven daughters in the Nasmyth family.
Patrick began drawing almost as soon as he learned how to hold a pencil. It was probably a bit of good fortune that Patrick would be born in an artist's household. He was a poor scholar and unable to resist the lure of a landscape lit by bright sunshine would often skip school entirely. To him, pencils were for sketching the flowers and the trees.
While preparing for an outing of sketching with his father, young Nasmyth injured his right hand. Not one to give up his beloved art, Patrick simply switched to his left hand and continued with little difference in the finished pieces. Those early left-handed pieces would become highly sought after around the time of his death.
Scottish landscape painters have a major enemy in the weather. Most landscape artists faced a choice of working out in the rain or working from memory in their studios. Loathe to give up even a day of painting, Patrick devised a traveling tent about the size of the booths used for Punch puppet show performances. While his contemporaries mocked his invention, he availed himself of the Scottish countryside in even the foulest of weather. One Nasmyth biographer assured his readers that the booth was never pitched upon the mountain tops "when the storm was at the wildest." However, that statement does appear leave open to possibility that Patrick may have used his shelter in unsafe conditions.
Unfortunately, the young artist was struck deaf at the age of 17.
At 23, Patrick traveled to London and exhibited a painting of Loch Katerine in the British Institution. The young painter was quickly recognized as a great talent and was called the English Hobbima in reference to the great Flemish painter of the 1600s. Despite an early acceptance to the art community, Patrick suffered from a lack of patronage. His works would occasionally sell to a generous or discerning admirer, but often he had to paint quickly and sell to dealers for reduced prices to support himself.
Patrick Nasmyth died on August 17, 1831 at the relatively young age of 45. His gravestone reads, "He was a native of Scotland, and his country was justly proud of his talents. As a delineator of landscape, the productions of his pencil, tasteful and vivid, reflect honour on the department of the British School. In his manner he was as modest and unassuming as in his profession he was skilful and eminent. This stone was erected by the resident Scotish artists in London – a humble but sincere tribute to his memory."
James was 21 years younger than Patrick. In his autobiography he talks about how much pleasure it brought to his father that Patrick also became a landscape painter. He said the wild plants Patrick used in the foregrounds of his pictures were some of his favorite objects of study. Patrick studied the form and character of clouds and most enjoyed painting the sky. (Interesting comment considering that many in the art world describe Patrick's skies as being light and bright but hanging over a somewhat dismal and dark landscape.)
James' autobiography provides much insight into Patrick, the person. He enjoyed old-fashioned novels like The Arabian Nights, The Mysteries of Udolpho, Robinson Crusoe and similar works. He loved music and would often whistle melodies and overtures as he walked the countryside. He was fairly skilled at the violin and would often take a break from his work, take up the violin, play a bit and then resume working.
Patrick would endlessly sketch "the careless grace of Nature", and take his sketches of tangled hedges, neglected fences and moss-grown orchards and combine them with a distant dome of St. Paul's or other stately buildings.
Sadly, James talks of how his father had to often supplement his brother's income and how paintings Patrick sold for under 20 guineas, would sell for 200-300 guineas only 40-50 years after his death. James tells of unscrupulous dealers taking advantage of his older brother. Commissions were often slow to pay while the dealers would pay immediately for paintings they knew they could resell for great profit. The dealers would offer a pile of guineas to the artist for a picture worth far more. They learned that, for Patrick, the sight of the money would prove too tempting and he would settle for far less than his work was worth. His fellow painters tried to educate Patrick as to the true value of his work but he often laughed off the conversation saying his overflowing sketchbooks would provide plenty of inspiration to draw money from.
Two of their sisters were there to tend to Patrick when he became ill after painting while standing in wet ground near the Thames. As the sun was setting he asked for the curtains to be drawn. With his face bathed in the light of the setting sun he said, "How glorious it is!" and fell into a deep sleep and was dead by the next morning.
Selected Paintings by Nasmyth