Home » Carriera, Rosalba
Rosalba Carriera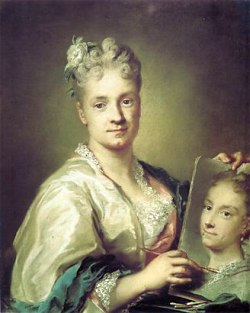 Her work, more than any other Italian painter of the 1700s, inspired a number of British artists including George Knapton (1698-1778) and William Hoare (1707-1792).
She is most remembered for her "little paintings", her use of pastels and using ivory as her canvas. Historical accounts disagree as to who her tutors may have been. Her paternal grandfather was a painter, so perhaps, her artistic talents came naturally.
Andrea Carriera of Chioggia had three daughters. One would marry an artist and another would become known throughout Europe as "the famous Rosalba", painter of fine portraits.
Rosalba Carriera – Early Life
Rosalba Carriera was born in Venice in 1673 or 1675. Her father was the steward of the Procurator Bon and her mother was a lace maker. As a child, Rosalba often drew pictures in her lesson books and later made lace patterns for her mother. The family was considered lower-middle class and money was tight. Knowing a handsome dowry for all three girls would be impossible; Andrea educated his children in hopes of making them more able to find suitable husbands. To that end, Rosalba, Giovanna and Angela studied Italian, French and Latin literature. All became accomplished musicians. Rosalba played the violin and harpsichord.
Most believe that Giuseppe Diamantini (1621-1705) and his student Antonio Balestra (1666-1740) were Rosalba's first teachers. She served as their apprentice often doing the more tedious tasks for the artists while learning her trade. She painted in oils and was earning a living by copying the great masters. Some believe she may have also studied under Giovanni Antonio Lazzari (1639-1713) and Federico Bencovich (1667-1753).
Female Painters & Society
She faced a number of challenges in pursuing her trade. While male painters were considered professional artists, women painters were seen more as hobbyists. It's no wonder with that perspective, that two of her early patrons offered her things like gloves and hand-embroidered sachets as payment. Upon delivery of a Madonna painting, another patron asked her to recommend a young, male painter to reproduce landscapes and historical paintings to decorate his castle under the assumption that Rosalba would not be able to complete the commission herself.
Miniature Portraits
In the late 1600s, miniatures were becoming quite fashionable. Fashionable ladies and gentleman began carrying small boxes of tobacco, snuff, sweetmeats, patches and scents. The boxes were decorated with miniature paintings and often further adorned with precious gemstones. Long before people began carrying photographs of loved ones in their wallets, the well-to-do carried small portraits of those they loved – openly or secretly. Some miniature portraits were worn as jewelry or hair ornaments and some were painted on toiletries. Others were cleverly hidden inside hidden compartments in the fashionable small boxes. Miniature portraits became symbols of romance and were becoming a traditional marriage gift. They were also used as tokens given between members of high society and visitors to the royal courts of Europe.
Around 1698, Rosalba began studying miniature painting. A family friend, Padre Felice Ramelli (1666-1740) may have been one of her early teachers. By the time she was 30, Rosalba's miniature portraits were as fashionable as the snuff boxes and charms she adorned. Her work was in such high demand that her sisters were often enlisted to help the artist complete the numerous commissions she received.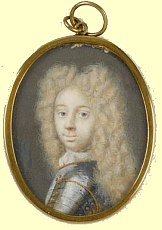 Miniatures were painted on parchment or vellum which often made them appear somewhat flat and generally lifeless. Rosalba began experimenting. She found ivory to be the perfect canvas for miniature portraits. She discovered how the material made her subjects come alive and their skin reflect a natural luminescence. She departed from traditional painting techniques and began painting with the side of the brush rather than only the tip. Color and light were used to beautify her subjects and highlight their most attractive features. Art critics and historians point out that her portraits were not fully accurate since they beautified rather than duplicated the subject's appearance. It seems to me that she did nothing more than what we do today with "Glamour Shots", airbrushing and PhotoShop. Why shouldn't a portrait enhance the positive and minimize our negative features? The well-to-do of the time must have also disagreed with historians since the demand for her work almost outstripped her ability to produce.
Rosalba Carriera – Portrait Painting Innovations
Rosalba took a different approach to portrait painting. She would spend time with her subject to study their personality, coloring and general appearance. She would make sketches in pen and ink, pastels and chalk. Clothing would be painted from the actual garment and once the scene was complete, the subject would sit only for the head and face. Rosalba often invited friends and relatives to these sittings and the subject was free to chat and laugh with the assembled company. Perhaps it was these informal gatherings that brought out the inner beauty of her subjects as the artist was able to capture, not the exact appearance of her subject, but their happiness and pleasure of being with friends.
Rosalba primarily painted portraits of women and children in the rococo style. While her technique brought out the charm and beauty of her subjects, her portraits of men were often seen as being overly feminine. She often placed her subjects in the settings that surrounded them rather than in formal settings. Her portraits primarily consisted of the subject's head and shoulders but pets, flowers and hands could be added for an additional price.
Venetian and Italian art was becoming in vogue throughout Europe. Official visitors and tourists frequently sought out fashionable painters like Rosalba, Pietro Longhi (1702-1785), Canaletto (1697-1768) and Francesco Guardi (1712-1793).
Rosalba Carriera – Pastelist
Rosalba painted a miniature portrait for the British diplomat, art-lover and amateur pastelist Christian Cole. He encouraged her to try using pastels for her portraits.
Most artists only used pastels for preliminary sketches. Pastels were considered too fragile a medium for finished works. A number of early architectural paintings done in pastels simply did not stand up to weather and repeated use. Portraits, on the other hand, particularly miniatures were a different story. Giovanna Fratellini (1666-1731), a Florence miniature painter was already having some success with pastel miniatures when Rosalba began working in the medium. Rosalba Carriera would become most well known for her
portraits in pastels in the rococo style.
Rosalba found that working in pastels was easier on her eyes and as her skills in the medium grew, so did her fame. One of her most recognizable techniques was to drag the flat side of a chalk over a contrasting color to simulate lace. In 1705, she was elected to the Academy of San Luca based on a miniature she had painted on ivory of a girl wearing white with a dove in her hand. Cole and several of his friends are thought to have influenced her selection.
Word quickly spread of the fine portrait artist and her use of ivory. Those who could not travel to her would commission pictures of mythological or sacred subjects. One patron, requesting a portrait of the goddess Venus, asked Rosalba to display the goddess "as nude as her conscience would permit." While we won't be including them on The Famous Artists, Rosalba painted a number of beautiful portraits which included semi-nude women.
Rosalba Carriera – In High Demand Throughout Europe
In 1720, Rosalba was invited to Paris by her friend and fellow artist Pierre Crozat (1661-1740) where she was literally besieged by admirers. She traveled to Paris with her sister Angela and her brother-in-law Giovanni Antonio Pellegrini (1675-1740), also an artist. While there, she painted the portrait of ten-year-old Louis XV and a number of other members of the court.
Rosalba was honored by being the first foreign woman painter admitted to the Royal Academie of Painting and Sculpture. That same year, she was admitted to the academy in Bologna. Angela and Giovanna helped Rosalba paint numerous portraits during the year she was in France. (Historical accounts vary, but she painted somewhere between 50, 100 or hundreds of portraits while in France.)
In 1723, she traveled to Modena to paint a series of portraits of princess Enrichetta Anna Sofia to give to suitors.  In 1730, she visited the court in Vienna where she gave instruction to the Empress of Germany and painted a portrait of the empress.
The King of Poland became one of her most ardent admirers. On several occasions he attempted to get Rosalba to paint exclusively for him. She continually refused. But, his patronage and that of his sons led to the substantial collection of her works that can be found in the Dresden Museum.
Students of Rosalba Carriera
Carriera taught a number of women the art of portrait painting. One student seems remembered in name only – Luisa Bergalli. Another student, Felicita Sartori, a former servant, had Rosalba to thank for a career as a miniaturist as well as her marriage to Franz Joseph von Hoffmann. Rosalba also tutored Margherita Terzi and Marianna Carlevaris (1703-1750). At least one historian suspects that Terzi and Carlevaris may have painted a number of the works currently attributed to Rosalba.
Rosalba's popularity led to a thriving secondary market where her works were copied and sold. Some copies were commissioned and others were fraudulently claimed to be her work. She generally didn't sign or date her work which made probably made it easier for those who copied her works and harder for historians to properly attribute her works.
Legacy of Rosalba Carriera, Italian Portrait Artist and Pastelist
Much of what we know about Carriera's personal life comes from her correspondence with friends and her personal diaries. She was friends with Bencovich, Anton Maria Zanetti the Elder (1679-1767), Antione Watteau (1684-1721) and a number of other well-known artists. Watteau was also an admirer of Rosalba's work. The painting most often used by historians when discussing Watteau's career was painted by Rosalba.
While Rosalba had many admirers and had extensive correspondence with several, she never married. When her sister died in 1737, she began painting less. Perhaps due to the strain from decades of working with miniatures, Rosalba was completely blind by 1745. Two separate operations failed to restore her sight. She died in Venice in 1757, after outliving her entire family.
Selected Paintings by Carriera