…by the famous artist Wouter Troostwijk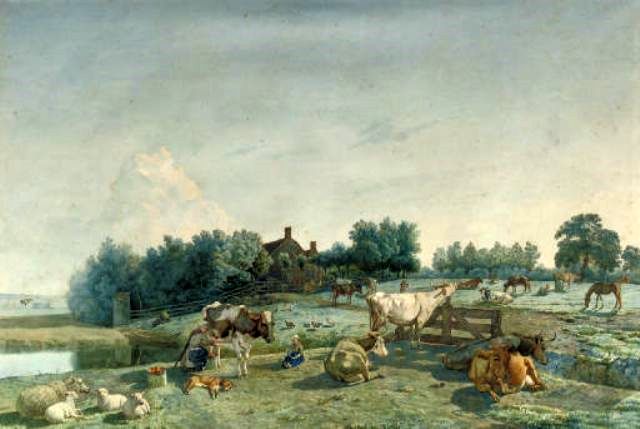 Wonderful romantic Netherlands style landscape painted by the famous artist Wouter Troostwijk (1782-1810). While I don't have access to the auction results, this watercolor, ink and gouache work was auctioned at Christie's in Amsterdam in 2008. To my uneducated eye, this painting exemplifies the career of this short-lived artist – it features cows, an oddly colored sky and a landscape full of shadows and reflections often seen in "plein air" works. Troostwijk's study of the 'atmospheric effect' and how natural daylight casts shadows over the landscape is through to have greatly influenced other Dutch artists in the 19th Century.
In this painting we see someone milking a cow while another person sits nearby and watches. Surrounding the two figures are cows, sheep, horses and a sleeping dog. In the background we see the canals of Amsterdam and a farm house with two chimneys.