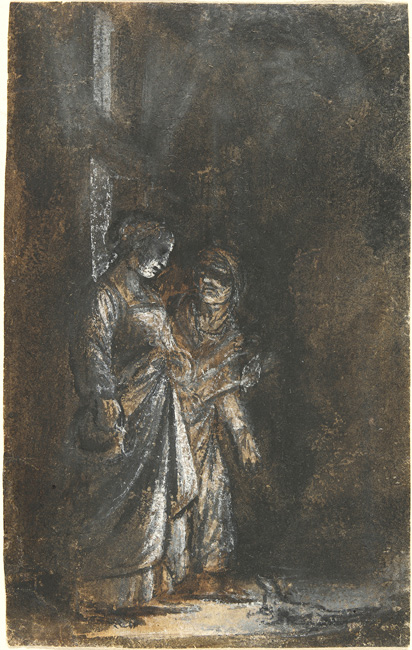 Adam Elsheimer (1578-1610) was a German atist, who is most well-known for his small paintings on copper plates, often referred to as cabinet paintings. This piece is special because it is not a cabinet painting. It is actually done on paper and is a rare example of draftsmanship by the artist. It was completed sometime between 1605 and 1608.
You might think the photo quality is really off here but the image you are seeing comes from the National Gallery of Art in Washington. Elsheimer's painting is part of the Wolfgang Ratjen Collection and was included in their exhibition of that collection (German Master Drawings from the Wolfgang Ratjen Collection, 1580-1900) held May 16, 2010–January 2, 2011.
The shadows were created on purpose using gouache (a paint with pigment, a binding agent and other inert materials) and ink. He created this indistinct lighting by using a layered technique. He would use brown paper and draw the figures in black. He would then build layer upon layer of opaque color working from darker hues to lighter tones. He would finally add white to convey illumination and cast an eerie glow over this depiction of Ceres and Stellio.
Ceres was the Roman goddess of agriculture. When her daughter, Proserpina, had been abducted, she searched the earth to find her. She carried lit torches and would shout her daughter's name wherever three or four roads met. The story continues that along her journeys, she encountered a young man Stellio. Feeling faint and weary from her unsuccessful search, she was hungrily eating a bowl of porridge. Young Stellio ridiculed the goddess for the eagerness with which she was eating. To ensure the young man would never again have the opportunity to offend her, Ceres threw the porridge in his face and turned him into a spotted lizard.
In Greek mythology, Ceres was called Demeter.
If you would like to learn more about this German artist, his life and see more examples of his work, please visit out biography of Adam Elsheimer.