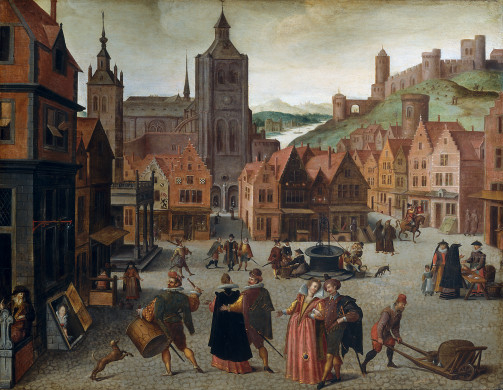 The Marketplace in Bergen op Zoom is a painting currently located in the United States National Gallery of Art. The oil on panel landscape measures 63.8 by 82.2 cm. It was painted around 1570 and is attributed to Abel Grimmer (~1577-1619).
Bergen op Zoom is a municipality and a city in the Netherlands. Much of what appears in this painting has since been damaged or destroyed by war. In fact, this painting was done while the region was being attacked by King Philip II of Spain.
It seems that Grimmer is either sharing with us a view of what city life was like prior to that war and is longing for those bucolic days to return. Or perhaps he wants the world to know that the strong natural fortifications around the city allowed the populace to live fairly normally – an early bit of propaganda perhaps.
The square is much larger now, so a number of the buildings were never rebuilt. I haven't been able to figure out the name of the castle in the painting. It too may have been destroyed or is one that the current owners occasionally open up for tourists to explore.
Grimmer does provide a glimpse into life in 1570. We see street vendors offering their wares, people at work, a town crier or jester banging a drum and people from all stations within society.
To learn more about the artist and see additional examples of his work, please visit our biography of Abel Grimmer.