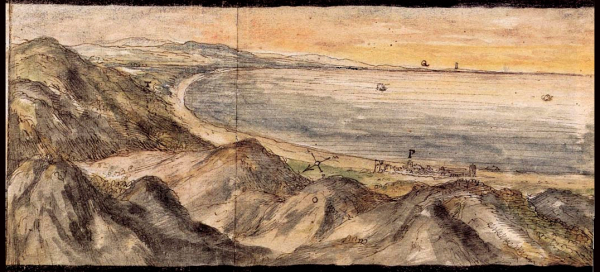 I think this is one of the prettiest of Anton van den Wyngaerde's panoramas that I've seen. This, one of his few surviving paintings, is of the coast of Africa near Marbella. What I've shared with you is less than 1/3 of the actual painting but I think it is a great representation of the overall work. (Besides webpages don't really work well with very wide images.)
Wyngaerde was sent by King Philip II of Spain to document the war with France in pictures. It is believed that this work was done by Wyngaerde around the time of the siege of Penon de Veleze de la Gomera in 1564, at least according to that stunning but sadly very expensive book on Wyngaerde by Richard L. Kagan.
The entire work depicts over 400 kilometers of the African coast from Oran to Ceuta.
Wyngaerde did not generally create his works to scale. He would typically sketch the locale several times and then create his final work from those sketches. Unlike mapmakers, Wyngaerde didn't measure distances or always put things in his pictures exactly as he found them.
He would often add people and boats to the piece last to provide a sense of overall scale for the work. In some cases, like with this work, he identifies particular landmarks to orient the viewer as to the position and grandeur of things.
To learn more about this Flemish artist and see more examples of his work, please visit our biography of Anton van den Wyngaerde.