Home » Zucchi, Antonio
Antonio Zucchi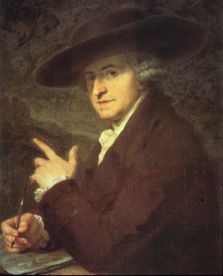 The Italian neoclassical painter Antonio Pietro Francesco Zucchi was born in Venice in 1726. His first teacher was his uncle Carlo Zucchi, a painter of architecture and perspective views. He later studied historical painting with Francesco Fontebasso (1707-1752) and Jacopo Amigoni (1682-1752). A comparison between young Zucchi's work and that of Amigoni shows how heavily the teacher had influenced the student's work; most notably the hazy coloring in Fourteen Stations of the Cross (1750).
In 1756, the Accademia di Pittura e Scultora in Venice elected Zucci as a member.
He became friends with the Adam brothers of Great Britain who had built the Adelphi. Zucchi traveled to Rome and Naples with Robert Adam(1728-1792) around 1759. Zucchi remained in Italy and studied the neo-Classical style and spent time drawing many of the historical buildings in that country. In 1766, he painted the altarpiece the Incredulity of Thomas for the church of S. Tomá and later that year joined Adam in London. Zucchi received many commissions while in England, often working as Adam's chief decorative painter. He decorated ceilings at the old Buckingham House, Kenwood, Newby Hall, Osterley Park, Nostell Priory, Caen Wood, Luton House and other fine residences in England.
William Murray hired Zucchi to paint the ceiling of his Library. The work was completed in 1669 and is thought to have greatly influenced Zucchi's election as an Associate of the Royal Academy of Painting and Sculpture in 1770. His works were often classified as "mythological." Between 1770 and 1783 he exhibited six works at the Royal Academy and one work at the Free Society.
It's not well-documented how they met, but some believe that Zucchi met the Swiss artist Angelica Kauffmann while working at Kenwood. Antonio, his brother Joseph (an engraver) and the Adam's brothers are also said to have known the Kauffman family for years. Angelica's father hoped to see her married before he died and mutual friends suggested to Antonio that father and daughter might accept him as her husband.
Kauffmann was considered by many in English society to be a scandalous woman. She spent too much time with Sir Joshua Reynolds and many felt their relationship had to include something more than just friendship. She had unfortunately married a fellow calling himself Count von Horn who turned out to be a fraud who had fooled all of London society with his false pedigree. While the marriage was not formally dissolved, he died in 1780 leaving her free to remarry.
Zucchi and Kauffmann married in 1781, a few months after Jean-Paul Marat began boasting around England that he had seduced Angelica. She denied the allegation. Some speculate that the marriage was one of friendship and convenience whereby Kauffmann provided much of the financial support for the household and Zucchi offered her an end to the speculation around her supposed liaisons.The portrait which accompanies this biography of Antonio Zucchi was painted by Kauffmann and completed in 1781.
Although the pair signed an agreement (similar to today's pre-nuptial agreement) whereby Zucchi agreed to not meddle in her career or to waste her fortune in idle speculations, he appears to have done both. The couple moved to Rome where Zucchi happily managed his wife's career often ensuring she was well-stocked with painting supplies and obtaining commissions for her work. Much of the information we have today about Kauffmann's works are due to the meticulous records Zucchi maintained of her commissions.
While the couple were living in Rome, he produced a number of landscape etchings of classical buildings or ancient ruins. Antonio Zucchi died in Rome in 1795 and left his wife with virtually no savings and only a limited income.
Selected Paintings by Zucchi