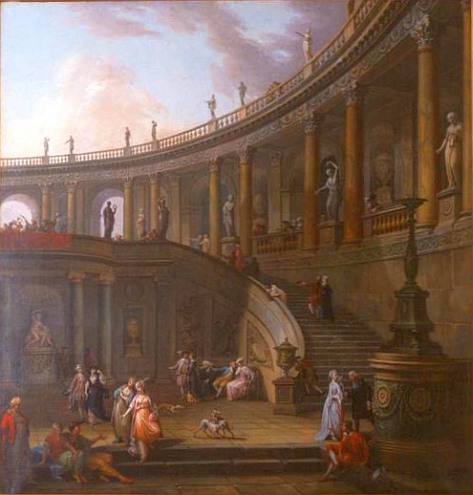 In this oil on canvas painting from 1771, the Italian artist Antonio Zucchi provides a glimpse of what life might have looked like inside the Pantheon at Rome or another palace courtyard. The painting was originally thought to be of the Pantheon but scholars now believe it depicts a fictitious or unknown palace courtyard. This painting is one of four that Zucchi produced for the Music Room at Harewood House in Leeds, England. It was commissioned by Edwin Lascelles, Lord Harewood under the direction of Robert Adam, the well-known architect and interior designer. Another one of the paintings from this group is An Italian Seaport.
A bright sky and brightly colored clothing seem to almost leap off the canvas against the dark background of the surrounding building. Glorious statuary, a grand winding staircase and intricate scrollwork are almost hidden behind the well-dressed occupants.
To learn more about the artist, his connection to Robert Adam and see additional examples of his work, please visit our biography of Antonio Zucchi.