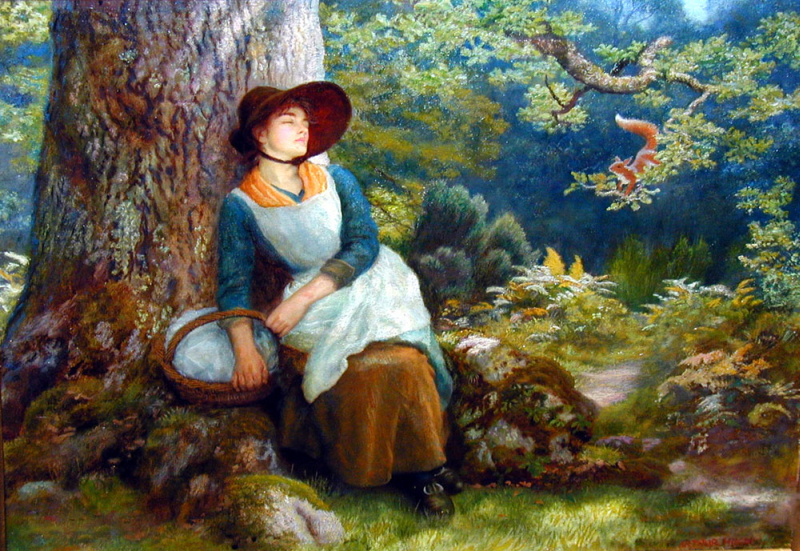 For a painting of someone sleeping, I think this Arthur Hughes (1832-1915) classic is full of bright and bold colors. It reminds me more of a painting of someone enjoying their garden than a painting of someone asleep in the woods.
The sad part about this painting is that we do not know who the model was or very much about the painting at all.
I can tell you that it reached a gavel price of $15,535 in 2002 at a Christie's auction. It is signed "Arthur Hughes", is an oil on canvas and measures 14 x 18 in. (35.5 x 45.7 cm.) The name we know it by was probably given to the work by a Christie's European art expert. Everything else about this lovely painting remains a bit of a mystery.
This work exemplifies the description we have of Hughes from Percy H. Bate, the author of the 1899 work The English pre-Raphaelite painters: their associates and successors. Bate said of Hughes that his work was "always sweet, always wholesome … and shows poetic fancy."
I think all three of those descriptions certainly fit this work. Asleep in the Woods depicts a young maiden sitting upon the roots of a large tree. Her basket clutched in both hands sits on the roots beside her. The entire scene is bathed in shades of green from the forest flora and blue from the blue sky that glows from behind the trees. Moss covered rocks, ferns and a few small flowers create a sweet and wholesome scene that makes this work so identifiable as being by Hughes. But, the part that makes this work my favorite among those by Hughes that I've included on The Famous Artists, is the curious red/brown squirrel that has climbed down from the top of the tree and sits on a low-hanging branch observing the sleeping girl. With a white chest and his tail in the air, the squirrel certainly adds the bit of poetic fancy to this famous painting by the English artist.
For more examples of work by this artist, be sure to check out our biography page where you can see additional famous paintings by Arthur Hughes.