…by the famous artist Berthe Morisot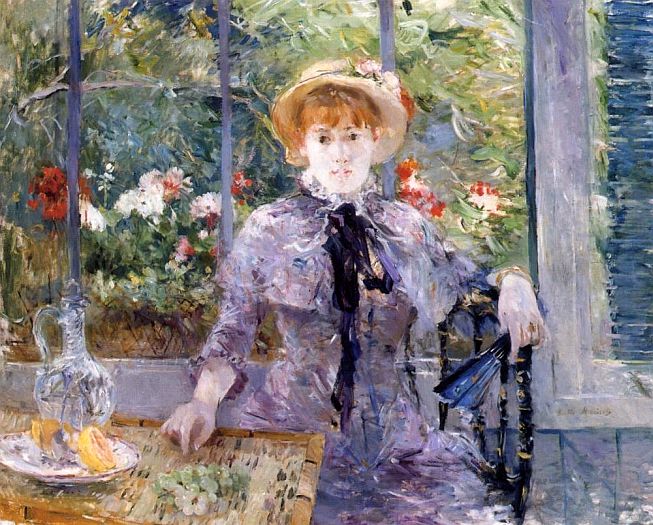 Après le déjeuner, or After Luncheon is a charming painting of a red-haired lady sitting in the conservatory by the French Impressionist Berthe Morisot (1841-1895). Scholars believe Morisot completed the painting in Bougival, where she and her husband Eugene Manet (brother of the famous artist Edouard Manet) rented a house. Marie (a woman who often served as Morisot's model) is wearing a pretty blue dress with a matching fan and straw hat with flowers, the lady seems to be enjoying the gardens full of blooming flowers as well as a bit of refreshments. This work is believed to have been completed by Morisot in 1881.
Après le déjeuner was first exhibited at the Seventh Exposition des Artistes Independants in Paris in March 1882. The event was organized by Paul Durand-Ruel. Durand-Ruel's gallery was where Julie Manet held a posthumous retrospective of mother's works in 1896. Après le déjeuner was one of the works featured at the event.
On February 6th, 2013, in Christie's London Impressionist/Modern Evening Sale, Après le déjeuner garnered the highest auction price ever paid for the work of a female painter – $10,980,813 (with the buyer's premium). The previously highest price attained by a work by a female artist was for Russian artist Natalia Goncharova's (1881-1962) Les fleurs which garnered a price of $10,870,506 (also including the buyer's premium).
To learn more about the life of one of the few women painters of her time, please visit our biography of Berthe Morisot.