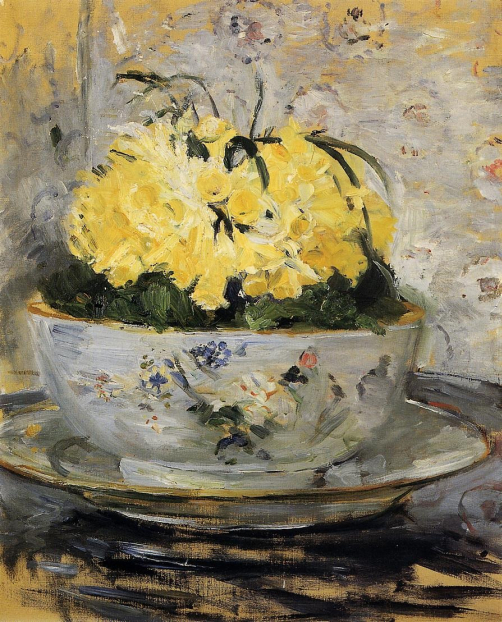 Berthe Morisot (1841-1895) was a French Impressionist painter. She held a unique role among the Impressionists being a style leader and yet somewhat constrained by society norms. Morisot's work easily stands on it's own merits against her perhaps more well known contemporaries like Edouard Manet and Carmille Pissarro.
This still life painting, simply entitled Daffodils was completed by Morisot in 1885. It measures 45 X 36 cm – a relatively small work. Bright yellow blooms sit in a painted bowl on a plate. The bright yellow flowers seem to magically draw you eye to them and away from the other aspects of this painting. Whether you call them jonquils, daffodils or just pretty yellow flowers, they always remind me of spring. Daffodils and crocus are usually the first flowers to bloom each year and their bright colors provide a sharp contrast for the late season snowfall which often surrounds their blooms.
To learn about Berthe Morisot's life, her influence in the Impressionist movement and to see more examples of her beautiful artwork, please visit our biography of Berthe Morisot.