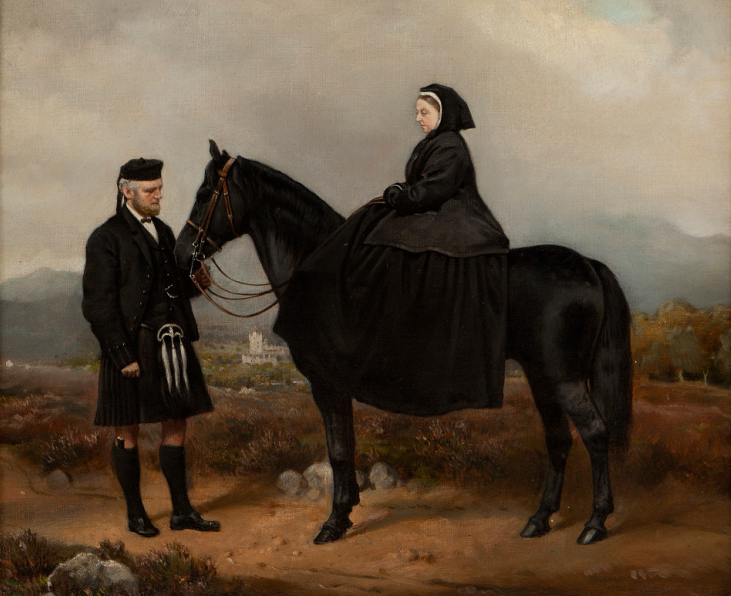 Boy, did the experts get this one wrong. When this portrait of Queen Victoria with John Brown was put up for auction in 2011, it was expected to yield an auction price of 20,000 to 30,000 British Pounds. Instead, this Charles Burton Barber (1845-1894) painting sold for £120,000.
Charles Burton Barber is most well-known for his charming subject paintings of children with their pets. He painted a number of children and animal portraits for the Queen. This painting is a bit of a departure from that as it does not have a cherubic child, the Queen's progeny or family pets within the piece. This painting was commissioned by the Queen to be a gift to a loyal and faithful servant. It was painted in 1876 and given to Brown to commemorate his birthday on August 26th.
John Brown was born in Scotland in 1826, hence the kilt in the painting. He began his career at Balmoral Castle as an outdoor servant or ghillie. He remained on staff when Queen Victoria purchased the castle in 1851.
The painting shows Queen Victoria, in full mourning, sitting upon a large black horse. Balmoral Castle is off in the distance. Brown is standing on the bridle path holding the horse's reins. The Queen is gazing down at Brown while he looks into the eyes of the magnificent horse. You may remember, if you've read our biography on Charles Burton Barber that the artist had a bit of help completing this painting. Harry Furniss, in his own biography of Barber, claimed that Barber had difficulty in painting men. Furniss agreed to serve as Barber's model to complete this painting – it's Furniss's calves that you see, not those of Brown.
John Brown and his true relationship with his queen continues to fuel much speculation. While some maintain that he become nothing more than a close friend, confidante and a bit of a protector of his Queen after the death of her beloved husband Prince Albert (1819 – 1861). Others speculate that their relationship was of a more intimate nature, citing her actions upon their death's as conclusive proof. When Brown died in 1883, the Queen had a life-sized statue of her loyal servant installed on the grounds of Balmoral Castle. Upon her death, she wanted to be buried wearing a ring she received from Brown's mother, a lock of his hair, his picture and several of his letters along with Albert's dressing gown and a plaster cast of his hand. A recently discovered letter, believed to be penned by the Queen, would appear to indicate that the death of Brown was as painful as the death of her beloved husband. There's even a weakly documented story that Brown and the Queen were secretly married.
The Queen's heir, King Edward VII would remove the statues and private memorials that his mother had erected in Brown's memory. The King had bitterly resented the amount of influence Brown had over his mother and the two men were known to have quarreled often.
Would it surprise you to know that there's another servant who would also come to influence the Queen who is depicted in another painting by Barber? Of course, all of these stories of a grieving Queen and a loyal servant, who gained perhaps too much influence over her, is the stuff of great movies. It was perhaps the release of the movie Mrs. Brown in 1997 which factored into the desirability of this painting and the high auction price. Billy Connolly starred in the movie as Brown and Dame Judi Dench depicted Victoria and Antony Sher appeared as Benjamin Disraeli.