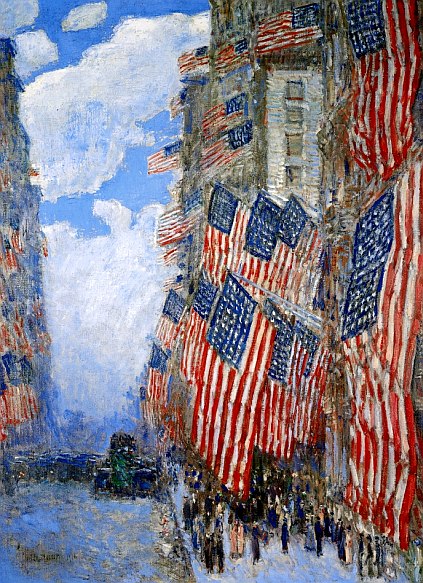 As America planned to enter World War I, there were a number of patriotic events across the country to mark the country's preparedness. In May of 1916, New York held a large parade to celebrate our nation's strength and the festivities climax was on the Fourth of July during what has become known as The Greatest Display of the American Flag Ever Seen in New York.
Preparedness Day is sadly most remembered for the bombing of a San Francisco parade by labor union members seeking to promote an isolationist strategy for the war. 10 were killed and 40 were injured during the largest parade ever held in that city – it lasted for 3 1/2 hours and had 51,329 participants.
This patriotic flag painting was painted by the American Impressionist Childe Hassam (1859-1935). His flag paintings are among his most famous works and this is one of a number of cityscape paintings which feature the American or other flags. (Notice the flag in the foreground and how it has only 48 stars as Alaska and Hawaii were not yet states in 1916.)
To learn more about this famous American artist and see additional examples of his work, please visit our biography of Childe Hassam.