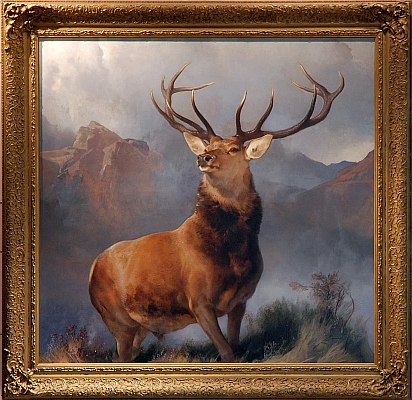 Monarch of the Glen is one of the most famous paintings completed by the English artist Sir Edwin Landseer (1802-1873). Lions might be king's of the jungle but the message here is clear that this great stag deer is king of the glen. He stands on a rise in a glen among cloud-covered mountains. The magnificent animal surveys the viewer while exhibiting a quiet strength.
It was painted in 1851 and was intended to be displayed in the refreshment-room of the House of Lords. The Commons refused the price. (The Famous Artists did not find the original asking price, but did find that the painting was later sold for 7,000 Pounds.) As of when we wrote this post, Monarch of the Glen was housed in the National Museum of Scotland. The world has Andrew McMillan to thank for making this photograph available and placing it into the public domain.
If you think this painting looks familiar, that might be because The Hartford Insurance Company began using Landseer's painting as their logo in 1875. While their logo is now a bit more modern, it still maintains a likeness to Landseer's powerful and majestic stag.
To learn more about this famous English artist and see more examples of his paintings, please visit our Sir Edwin Landseer biography.