Home » Landseer, Edwin
Edwin Landseer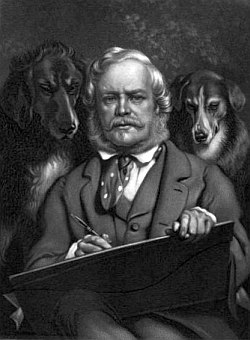 Edwin Henry Landseer became one of England's most famous and beloved artists. His paintings of animals with human characteristics became his trademark, which only seems fitting as his career began by drawing and sketching animals. (Edwin Landseer portrait by George Edward Perine 1837-1885.)
Edwin was born in London in 1802. His mother is rarely mentioned but the former Miss Potts was identified as having sat for Sir Joshua Reynolds for The Gleaners, with a sheaf of corn on her head in Macklin's Family Picture.
His father, John Landseer (1769-1852) was a well-regarded engraver and Edwin's first teacher. Believing that the natural world was the best teacher of art, John took his sons out to the fields of Hampstead Heath to observe and sketch the animals who grazed there. Charles (1799-1879) would become a figure painter and architect and Thomas (1796-1880) would become an accomplished engraver. The family also had at least one daughter.
Edwin's early subjects included donkeys, goats and sheep. His father reminisced in later years about lifting a six or seven year old Edwin over a stile to be able to sketch the sheep and cows that had been grazing on the other side.
"Master E. Landseer" was an "honorary exhibitor" at the Royal Academy when he was only eight years old. His submission that year was comprised of a single engraved plate with a number of subjects. It included an ass, a short-horned sheep, a second sheep and a boar. There were a number of other early well-received engravings including the heads of a lion and tiger – a work thought to truly exemplify the talent of the young prodigy.
A number of Edwin's sketches were etched by his other elder brother Thomas. One of the more famous of these collaborations was a plate of an Alpine mastiff named Lion drawn by Edwin when he was thirteen.
As Edwin's skills grew, so did his fame. The Sporting Magazine published a number of his early studies. His father chronicled his activities in a submission to the periodical "Annals of Art" in which he called his son a promising student.
At thirteen, Edwin's first successful oil paintings were shown at the Royal Academy Exhibition in 1815. They were Portrait of a Mule and Portraits of a Pointer Bitch and Puppy. These works were important, not just as the early works of a famous artist but as a return to providing animals with an expressiveness and humor that hadn't been seen since William Hogarth's (1697-1764) work.
1815 also marks the year that all three of the Landseer boys would meet their third teacher. Seeking a new instructor for his three boys, John Landseer approached the English historical painter and writer Benjamin Haydon (1786-1846). The two elder brothers were given direct instruction by Haydon but it appears that Edwin was not. Haydon advised John Landseer to have his youngest son dissect animals in order to better understand their construction. Haydon lent his drawings from his dissection of a lion which young Edwin copied.
Hayden would take a number of Edwin's dog drawings and show them to Sir George Beaumont and a number of other members of the nobility. He would later proudly let it be known the "Edwin Landseer dissected animals under my eye, copied my anatomical drawings, and carried my principles of study into animal painting." Other accounts limit his contributions to Edwin's career to the advice to dissect animals and the access to his lion drawings.
In 1816, Henry Fuseli (1741-1825) would become Edwin's next teacher who would refer to him as his "little dog boy."
1818 would mark a turning point in the young artist's career. That year, he showed Fighting Dogs getting Wind at the Society of Painters in Oil and Water Colours, Spring Gardens. Sir George Beaumont, perhaps at the advice of Haydon, purchased the painting. Landseer transitioned from the precocious, young, 'Master E. Landseer' to a professional artist. A critic from "The Examiner" proclaimed Landseer's work as exemplifying the quality of the works included and why this particular exhibition was their favorite.
In 1824, Landseer would make his first trip to Scotland. While there, he met Sir Walter Scott and more Scottish and romantic themes began appearing in Landseer's work. Even though he was no longer a lad, John Landseer still managed his son's career – pricing his works, receiving the money and generally directing his activities.
Landseer would continue to develop his craft and take on a number of students including Georgina, Duchess of Bedford. He developed a close friendship with Queen Victoria, who became both patron and student. His engravings were so popular that perhaps as many as 126 engravers were employed on his works at different times. His illustrations appeared in the Waverley Novels and various sporting books and journals.
Some claim that Landseer was able to paint with both hands simultaneously. He could paint both the horse's tail and head at the same time. He told one patron that he had completed a particular painting in three-quarters of an hour which may provide evidence of this ability or led to its fabrication.
In 1830, Edwin Landseer was elected to full honors at the Royal Academy. He was knighted in 1850.
While many of Landseer's animal paintings were pretty animal portraits, there were also a number of works with quite dark themes. In The Cat's Paw he painted a scene where a monkey struggles with a mother cat and uses her foot to retrieve chestnuts roasting on a hot stove with little regard to her frightened kittens or likelihood of being burnt. One recurring theme, a dog's loyalty to its master, occurs in a number of pieces which include a fallen knight, his fallen steed and his loyal canine.
Historical accounts of Landseer's life and career read more like a chronology of his paintings than a portrait of the life of an artist. I could keep chronicling his life though his paintings and honors but The Famous Artists was designed to showcase the painters themselves rather than produce somewhat tedious timelines of all of their works. There's very little personal information on the child artist or even the professional one.
Several sources mentioned that the artist suffered most of his life from mental illness which was exacerbated by alcohol and drug use. Sadly, one of England's most beloved artists became so ill that his family had him declared insane in July 1872. Sir Edwin Landseer would die 14 months later in 1873. Across England, his passing was honored with the lowering of flags to half-mast, the lowering of blinds and the hanging of wreaths around the bronze lions he designed in 1867 for Admiral Nelson's Column and monument in Trafalgar Square. Britons came in large numbers to watch his funeral cortege pass.
Selected Paintings by Landseer