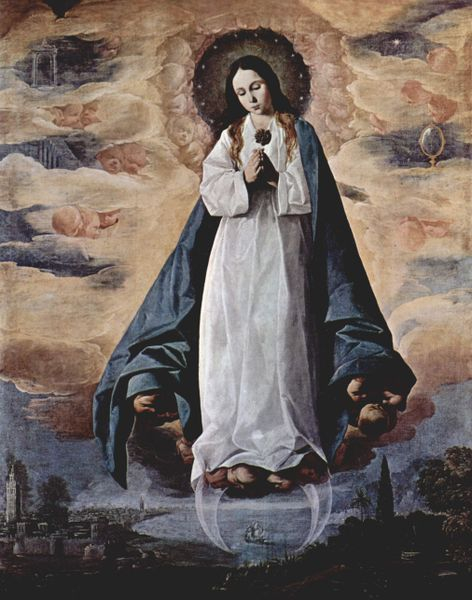 This painting of the Immaculate Conception is one of several painted by the famous Spanish artists Francisco de Zurbarán. From what I can tell, none of them were given names other than Immaculate Conception, so I will include the date the piece was painted to keep them straight; this painting was painted by Zurbarán in 1630.
Spain in the seventeenth-century is perhaps a pivotal moment in history when it comes to how we view the Virgin Mary. In 1616, in Seville there was much debate between her detractors and defenders. Seville would become a center for conceptionism and painters from that area often depicted the Virgin Mary in their work. Zurbarán may have been one of the more prolific painters of the Immaculate Conception. His work is often characterized by his portrayal of Mary as a very young girl surrounded by light and often by infants. This particular version has quite a bit of embedded Biblical imagery but I will leave them to the observer to identify.
This work is an oil on canvas measuring 174 × 138 cm.
To learn more about the artist and see additional examples of his work, please visit our Francisco de Zurbarán biography.