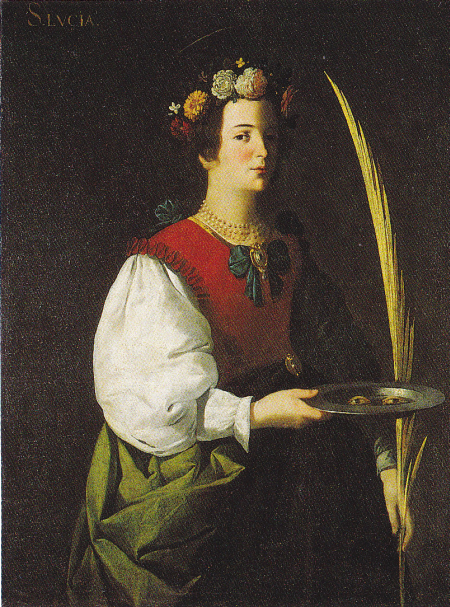 Francisco de Zurbarán (1598-1664) was a Spanish painter, who worked for a time in the court of Philip IV (1605-1665). Zurbarán painted a number of the saints and when painting the women, he often would dress them gorgeously and in clothing of his own period. This portrait of Saint Lucy is no exception.
Saint Lucia became a Christian martyr during the Diocletian persecution. She was the daughter of a wealthy family from Syracuse, Sicily. There are a number of versions to the legend of Saint Lucy (283-304) and how she lost her eyes. Saint Lucy found herself betrothed to a pagan. She refused to marry him. He often remarked on how much he admired her lovely eyes and proclaimed that their beauty permitted him no peace. According to legend, she tore them out and gave them to her betrothed and said, "Now let me live to God."
The legend continues that her eyesight was miraculously restored during prayer.
The Latin version of the Saint's name, Lux means light. Saint Lucy is the patron saint of those who are blind.
In Zurbarán's portrayal of Saint Lucy, she offers her eyes on a pewter tray as if offering up a tasty morsel to eat. Saint Lucy's Day, a day of celebration and feast is December 13th. The wheat she holds in Zurbarán's portrait relates to those celebrations, first held in Sicily. A special dessert of wheat in hot chocolate is served only on that day. The large grains of soft wheat in the desert represent her eyes.
This painting is oils on canvas and measures 105 by 77 cm. It was painted sometime between 1625 and 1630.
You can learn more about this famous artist and see more examples of his work on our Franciso de Zurbarán.