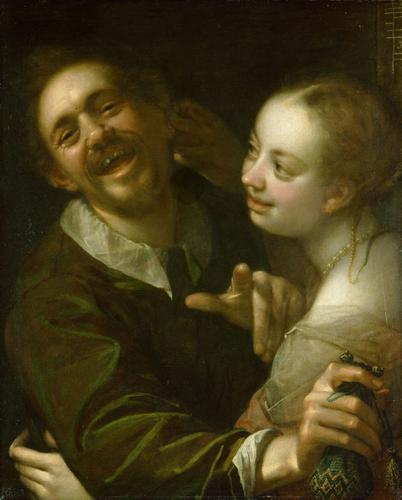 This painting was originally entitled Scherzendes Paar but is more commonly known as A Couple at a Guesthouse. I've found very little information about the two people in the painting but I suspect based upon his other self-portraits that this might be a painting of the German artist Hans von Aachen and his wife Regina.
Hans von Aachen (1552-1615) was a German Mannerist painter who opted to paint using a style different from that of his mentors. Even though he was died before it truly began, his work reminds me of the work of the Dutch Golden Age Painters.
In the painting, we have a happy-looking couple embracing or dancing. She rubs his ear to his great merriment. He holds on to her purse which was also a bit of why I thought it could be a self portrait of the artist. If the lady is his wife, he could be subtly controlling the purse strings in the household. If the lady is a patron, he could be referring to the cost of his work. Either way, it is a charming portrait of two people enjoying a moment together.
Be sure to visit our Hans Von Aachen biography to learn more about this famous artist.