Home » Flavitsky, Konstantin
Konstantin Flavitsky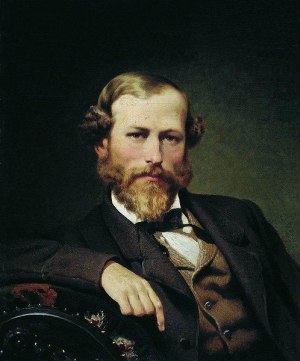 There's not much information on the life of the Russian historical painter Konstantin Flavitsky. He died quite young in his mid-thirties, perhaps of exhaustion from overwork. He was born in 1829 or 1830, most historians believe it was 1830, somewhere in Russia. He attended the Academy of St. Petersburg and would later become a professor at the Academy.
His most famous painting, The Death of the Princess Tarakanoff was part of the Great Paris Exhibition of 1867. His work was thought by many to be the most memorable of the contributions by Russian artists to the Exhibition. At the time, there were some among the art world who thought that Russian artists were far less skilled than their European counterparts. Flavitsky's work perhaps put an end to such speculation in a truly dramatic fashion in the form of this large painting which measures over 96 inches by almost 74 inches (245cm by 187.5cm). To keep the size of this painting in perspective, a double or full-sized bed only measures 54 inches by 75 inches.
At the time of his death in 1866 in St. Petersburg, Konstantin Flavitsky was working on a number of designs of saints for a church in Wilna, now known as Vilnius, Lithuania.
The portrait of Flavitsky was painted by fellow Russian artist Fyodor Andreyevich Bronnikov (1827-1902).
Selected Paintings by Flavitsky