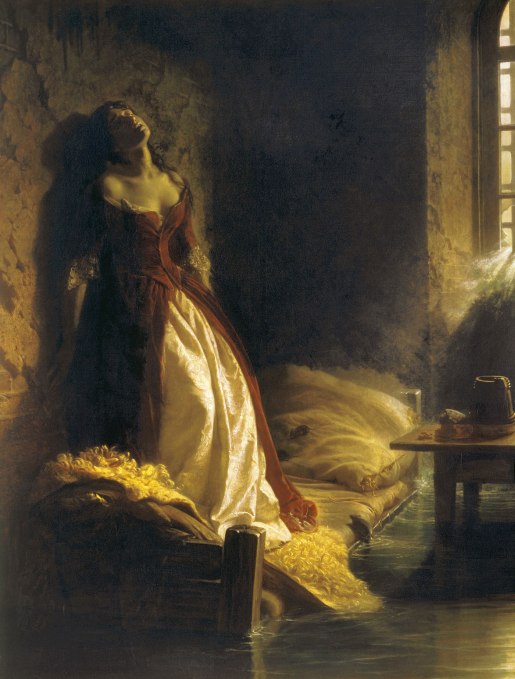 This painting, also known by the title Princess Tarakanova, in the Peter and Paul Fortress at the Time of the Flood, is the most famous painting by the Russian painter Konstantin Flavitsky (1830-1867).
Yelizaveta Alekseyevna (1753-1775) claimed to be the daughter of Aleksey Grigorievich Razumovsky and Elizabeth of Russia and made a claim on the Russian throne. Empress Catherine II sent Aleksei Grigoryevich Orlov to arrest Alekseyevna in Tuscany. She was returned to Russia in 1775 and imprisoned within the Peter and Paul Fortress. Historical accounts have the pretender to the throne dying of tuberculosis in December of 1775 and buried in Novospassky Monastery, next to other non-reigning Romanovs.
Two other theories have arisen surrounding the women who would later become known by the name of Tarakanova, a name derived from the Russian word for cockroach). In one, her death was faked and she lived out her life under the name of Dosiphea in Ivanovsky Convent from 1875 until her death in 1810. The third theory is represented here, perhaps only subscribed to by Flavitsky, that Alekseyevna died in her prison cell in the 1777 floods in St. Petersburg.
Part of what makes this painting unusual is something most people, when viewing a photograph of this painting miss – the rats. We see the young women perched upon her bed in her cell awaiting her fate as the water freely flows in the window of her cell. The rats, who also inhabit the cell, are climbing up on the bed, also in the vain attempt to save themselves. Rats were seen by many artists as creatures not worthy of inclusion in a fine work of art. By adding the rats to his work, Flavitsky adds a degree of realism to his work as well as cast aside the prohibition of including rats in major works. This painting measures over 96 inches by almost 74 inches (245cm by 187.5cm) which is about the same width as a double bed but 42 inches longer.
What I do find curious is why, if she was truly a pretender, was she buried with members of the House of Romanov.