…by the famous artist Luke Fildes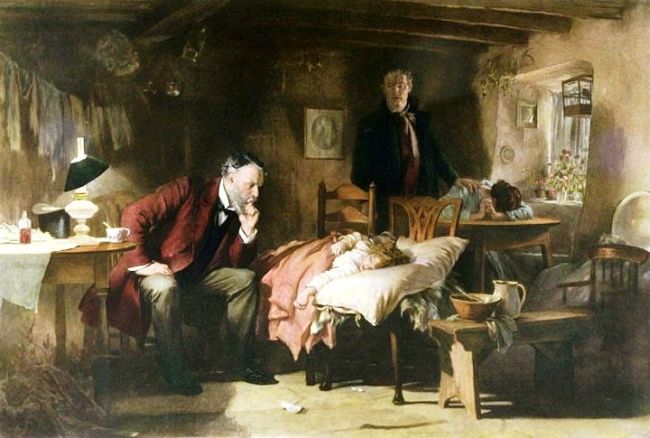 The Doctor is one of the most famous paintings by the English painter (Samuel) Luke Fildes (1844-1927). In 1949, the American Medical Association used the painting in a campaign launched to defeat President Harry S. Truman's proposal for nationalized health care. Poster and brochures included the picture and the slogan, "Keep Politics Out of this Picture." 65,000 of the posters were printed and displayed to help defeat the proposal.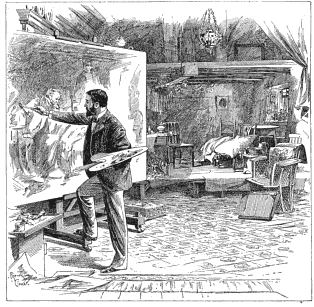 The Doctor was inspired by the death of Philip Fildes, the artist's eldest son in 1877. Fildes made numerous sketches before beginning the work and even had a replica of the sick room built in his studio, as shown in the drawing on the right by Reginald Cleaver which was published in the newspaper "The Graphic".
As you can see when comparing the artist at work and his finished painting, the replica included such details as roof rafters, the tablecloth and even the lampshade tilted towards the ailing child.
He visited many cottages in north-east Scotland and sketched many English and Scottish cottages before deciding on the interior design of his fictitious cottage.
Unlike his own son's story, The Doctor depicts dawn's early rays streaming in a window, marking the end of night and the rising hope of seeing their child live through the night. Overcome by emotion and hope, the mother drops her head onto her hands while the father comforts her through a simple touch. The parents, by location and lighting, are left in the background as the doctor and his patient are lit both by a small lamp and the morning sun. It depicts the Victorian Era general practitioner watching over his young patient who lies, not in a feather bed, but on a pair of mismatched chairs in a poor peasant's cottage.
It is this setting that make some believe that the painting was actually commissioned by Queen Victoria to commemorate her own personal physician that she supposedly sent to care for the sick child of a servant.