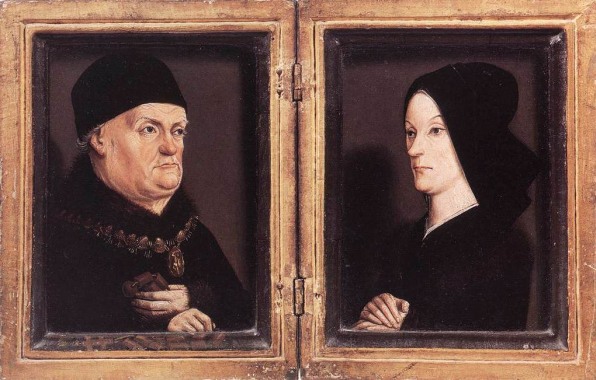 It seems quite ironic and almost unfair that one of Nicolas Froment's (1435-1484) most famous and lasting works carries another man's name. The Matheron Diptych is named for the presence of Matheron's device which appears on both sides the cover of this small, folio-like pair of portraits – a jeweled crown above a stalk of lilies.
But, it's the portraits of King René of France and his wife Jeanne de Laval that have perhaps kept this piece intact after over 500 years – it was completed in 1480. It is believed the King René had the portraits completed as a gift to Jean de Matheron. Matheron was Lord of Salignac and Peynier and a treasury official. He was sent on a number of diplomatic missions and was knighted in 1474.
Froment was a member of René's court and one of his favorite artists. Like many paintings of the time, the people are depicted looking stern and almost angry. To me, what makes this piece even more interesting is the shadows make it look as if the king and queen are actually sitting inside the frame.
To see more of Froment's work and learn more about his life, please visit our biography of Nicolas Froment.