Rubens, Peter Paul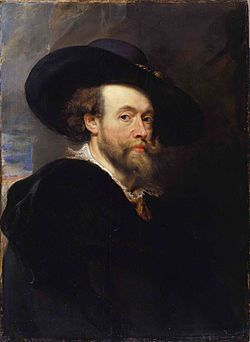 Peter Paul Rubens was born in Siegen, Germany in 1577. His parents would have six children in all, Peter Paul was the fourth son. His father, Jan Rubens had been a prominent Antwerp Protestant and lawyer. The family fled to Cologne, Germany to escape Spanish prosecution during the war for independence.
Jan Rubens would be imprisoned after having an affair with Anne of Saxony, the second wife of the Prince of Orange. After a two year imprisonment, Rubens and his family were granted permission to live in any town of the Duchy. They chose Siegen. The family would return to Cologne in 1578. Two years after Jan's death in 1587, Maria Pypelinckx Rubens returned to Antwerp with her children, Peter Paul was ten years old. He would be raised as a Catholic and his faith would always be a large part of his life.
Two historical events occurred in the room where Rubens was born. Mary de' Medici (1575-1642), wife of Henri Quatre and mother of Louis the Thirteenth, ended her life amid a flurry of controversy and political intrigue in that same room. She was a huge patron of the arts and Peter Paul Rubens had been her court painter. The house on Rue de Tival was said to have an exterior "devoid of consequence" which would lead one to assume that it was a fairly humble home. In a final twist of irony, the room where a famous artist was born in exile would become the death place of a royal. And the artist would take his last breath in a palace at Antwerp.
Early Career of Peter Paul Rubens
Recognizing her son's artistic abilities, Madame Rubens found local artists to train her son. Like many art students, Rubens began his art career copying the work of others, particularly Hans Holbein the Younger (1497-1543) and Marcantonio Raimondi (1480-1534). He also studied Latin and classical literature. At fourteen, he apprenticed under Tobias Verhaeght (1561-1631), a landscape painter, who one source identified as being related to Rubens by marriage. Rubens would not stay with Verhaeght long citing an inability to remain with an artist with such low morals. He would also study with Adam van Noort (1561/2 – 1641) for several years and with Otto van Veen (c.1556-1629), often called the Flemish Raphael in 1596. Veen was court painter to the Archduke Albert, Governor of the Netherlands (1559-1621) and would introduce Rubens to the Archduke.
Rubens entered the Guild of St. Luke as an independent master in 1598.
Italian Influences
In 1600, he traveled to Italy with the protection of Archduke Albert and letters of recommendation. That trip would change the art world forever. There had been a long standing rivalry between artists of the North (northern Europe) and artists of the South (Italy). The works of Italian masters like Caravaggio (1571-1610) and Annibale Carricci (1560-1609), among others inspired the young artist. Like no "Northerner" before him, young Rubens would come to duplicate their High Renaissance and early Baroque style to the degree that he could compete on equal footing with Italian painters. For the first time, a "northern artist" could successfully ply their trade in Italy.
He joined the court of Duke Vincenzo I Gonzago (1562-1612) in Mantua, Italy, where he was named the Gentleman of the Chamber and Court Painter. The Duke's financial support allowed Rubens to travel throughout Italy where he studied and copied works of earlier artists like Michelangelo (1475-1564), Raphael (1485-1520) and Leonardo da Vinci (1452-1519).
While on a diplomatic mission in 1603 with Phillip III of Spain (1578-1621), Rubens studied the works of Raphael and Titian (c.1488/90 – 1576) that had been collected by Phillip II (1527-1598). He also painted an equestrian portrait of the Duke of Lerma (1552/3 – 1625), a work which is thought to have been greatly influenced by Titian's Charles V at Mühlberg. While in Italy, he would also paint the portrait of the Pope Clement VIII (1536-1605).
Return to Antwerp
In 1608, Ruben's mother became gravely ill. He returned to Belgium but did not arrive in time to see her before her death. He spent four months in seclusion in the Abbey of St. Michael of Antwerp where he is said to have consoled himself with a few of his books and his pencil. He had planned on returning to Italy but when he received a special appointment as court painter to the Spanish viceroy Archduke Ferdinand, he opted to stay. He would be able to establish a workshop in Antwerp but he would be exempt of local taxes and guild regulations – an opportunity to profitable to pass up. His studio would become the artistic center of Flanders.
The appointment also cemented Rubens' role as a diplomat. Rubens had mastered the art of diplomacy and was fluent in six languages. As he carried out his diplomatic missions, he also worked to procure commissions for his art. He traveled extensively throughout Europe and England brokering treaties and garnering commissions. Rather than list his complete itinerary/travelogue here, I will focus on those events which shaped the artist.
The Studio of Peter Paul Rubens
Rubens filled his studios with young artists and established professionals to create what was virtually a painting factory. (Much like Thomas Kinkade would do almost 400 years later.) He hired artists who would specialize in aspects of each painting – someone painted animals, someone else might paint the backgrounds and yet someone else did still lifes. Rubens would provide the overall design and add his own finishing touches. Students and contemporaries who worked in his workshop included a young Anthony van Dyck (1599-1641); Frans Snyders (1579-1657), who painted the eagle in Prometheus Bound; and the flower painter Jan Brueghel the Elder (1579-1657).
Paintings from Rubens' studio may be completed by his hand alone, enhanced by the work or others or completely bereft of his touch. Based on letters published in Original Unpublished Papers Illustrative of the Life of Sir Peter Paul Rubens, as an Artist and Diplomatist by W. Noël Sainsbury in 1859, we know there was at least one patron who was unhappy with this arrangement. Correspondence between Rubens and  W. Trumbull regarding a picture for Lord Ambassador Carleton indicates that Rubens charged half as much for the work since he had only "touched and retouched everywhere alike by my own hand." In a trade between the two, Rubens lists the paintings he is offering, along with details as to how much of each was painted by his own hand. It is perhaps by this list that we know that Snyders painted the eagle on A Prometheus Bound on Mount Caucasus.
Personal Life of Peter Paul Rubens
In the fall of 1609, Rubens married Isabella Brant, the daughter of John Brant and niece of Maria de Moy, wife of the Prince of Ligne. Their first son would be named Albert in honor of his god-father the Archduke. In 1610, Rubens built a home in Antwerp in the Italian style but of his own design. Their home now houses the Rubenshuis Museum. Isabella died in 1626, they had three children Clara Serena (1611-1623), Albert and Nicholas. Albert, would hold a high office in Antwerp.
Rubens painted the portrait which accompanies this biography in 1623. It can be seen in the National Gallery of Australia in Canberra.
In 1630, Rubens married 16-year-old Helene Fourment. She gave birth to Ruben's youngest child eight months after his death. The couple would have five children in all – Clara Johanna, Frans, Isabella Johanna, Peter Paul and Constantia Albertina. Helene would become the model for many of his later works. The voluptuous figures that would come to be referred to as Rubensiaans and the hallmark of the Rubenesque style were inspired by Helene's curvacious figure.
Throughout his life, Rubens remained devout to his Catholic faith and lived a pious life. When he wasn't traveling, he would rise at 4 in the morning to attend mass. He would then go to work. Rubens employed a person who would read aloud the classics or poetry while the artist painted. Particular favorites were said to be Livy, Plutarch, Cicero and Seneca. He would spend the hour before dinner on some form of recreation – often visiting his own vast collection of art. After dinner, he would enjoy a ride on one of his horses – often a spirited Andalusian. Rubens was known to maintain a fine stable. After his ride, he would receive friends for what he called instructive and cheerful conversation.
Letters from the period describe Rubens as a friendly fellow with a kindly disposition. More so than any other artist that I've researched for The Famous Artists Peter Paul Rubens is remembered for his generosity of spirit as well as his artistic legacy. He was quite willing to foster rising talent without regard for the possibility of helping to launch a potential rival. Despite the patronage of several royal houses and his great financial success, Rubens remained respected and liked by other artists. The Antwerp Cathedral houses 11 pieces by the much loved artist and one described the connection between the artist and the Cathedral with the words, "The spirit of his thought here walks the earth, In glory and in light."
His paintings were in great demand for the adornment of churches, the palaces of sovereigns and the mansion of the noble and wealthy of all nations. He was knighted by Phillip IV of Spain in 1624 and Charles I of England in 1630. Peter Paul Rubens died in 1640 in Antwerp.
History of Antwerp and the Kingdom of Belgium
During Rubens' lifetime, Antwerp was part of the Spanish Netherlands. Belgium would not gain its full independence until 1830, when it seceded from the Netherlands. Antwerp is in an area of Belgium that is known as Flanders. Historically, Flanders was the name of the Dutch-speaking part of Belgium. People from this region were often called Flemish. This is why some will refer to Rubens as a Flemish painter or a producer of Netherlandish art. However, most historians today classify Rubens as a Belgian painter.
Sadly, during the French Bombardment of Brussels in 1695, the world lost several paintings attributed to Rubens. Fire would also claim more of his work as would World War II and the fire in the Friedrichshain Flakturm. Wikipedia's article on lost works, identifies 20 individual pieces and one series of 39 ceiling paintings by Rubens that fell victim to fire, war and political strife. Some are completely gone and others remain only through copies completed by other artists.

This is one of the most famous paintings to come from the studio of

Chapeau de Paille or Canopy Hat is often mistranslated to Hat of Straw. As the hat on this lovely lady is obviously made of felt, that modern definition of de Paille just never really made sense. If you consider that…
Read more

Peter Paul Rubens (1577-1640) was a Belgian painter and diplomat. This dramatic portrait of the Duke of Lerma was painted in 1603 while Rubens was in Italy. Don Francisco Gómez de Sandoval (1552/3 – 1625) was a favorite of Phillip…
Read more