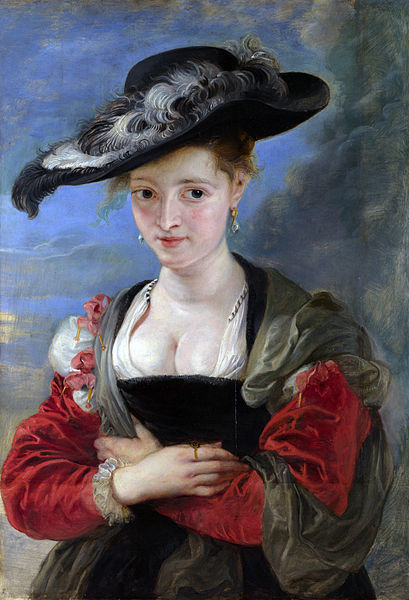 Chapeau de Paille or Canopy Hat is often mistranslated to Hat of Straw. As the hat on this lovely lady is obviously made of felt, that modern definition of de Paille just never really made sense.
If you consider that walking or standing under a canopy was once a privilege reserved for princes, the title may have been intended to provide Madame Fourment with a compliment.
This portrait, by the Belgian artist Peter Paul Rubens (1577-1640), was painted around 1622. It is an oil on oak board painting that measures 30 1/4 inches by 21 inches. The subject is Susanne Fourment. She had married, for the second time in 1622, so this portrait may have been commissioned by her groom. She was 23 when it was painted. Rubens painted her portrait more than once and would marry her younger sister Helene in 1630.
This portrait has been used by Wikipedia and elsewhere as an example of fashion of the early 1600s. Her felt hat with the feathers is somewhat timeless but it is her low-cut and form-fitting gown that depicts the era in which she lived. Red sleeves, on a black velvet and a gauzy fabric shawl are combined to highlight the lady's pale complexion. Perhaps already at this time, we have a bit of foreshadowing of the Rubenesque version of the female form with a voluptuousness combined with pale white skin.
To learn more about the artist and see more of his work, please visit our Peter Paul Rubens Biography.