Home » Tura, Cosimo
Cosimo Tura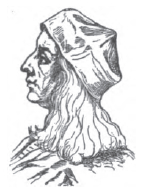 Cosimo Tura is considered the first great painter in Renaissance Ferrera.
He was born in Ferrara between 1420 and 1430 and died in 1495. Vasari wrote that Turo was a student of Galasso Galassi and the the two worked together at the ducal seat of Belriguado, where Tura would decorate a chapel in 1471. He was also believed to be a student of Francesco Squarcione.
Tura enjoyed the patronage of the Duke of Ferrara who made him his court painter in 1458. Before becoming the Duke's court painter, Cosimo Tura furnished patterns for tapestry and worked in the ducal studio. Most of his early works have been lost, but the organ doors for the Duomo have been preserved. That work represented the Annunciation and St. George and the Dragon. It was completed in 1469.
Students of Cosimo Tura included Francesco del Cossa and Francesco Bianchi.
Tura's work is said to be reminiscent of Mantagna and Piero della Francesca in his use of perspective, his treatment of architecture and his extravagance of gesture. However, it is also said that it lacks Mantagna's refined elegance and passion nor has the delicate quaintness of Francesca's work. He is considered an accomplished, vigorous and painstaking artist. He became known to exaggerate human anatomy and these purposeful distortions appear to have increased in his later works as did his spiritual and emotional fervor.
Since Ferrara lacked a strong history of great paintings, Tura may have been able to more freely explore painting styles. He had access to the Ferrarese collections which would have included works by Tuscan, Paduan and Flemish artists.
Like so many of the famous painters from the 1400s, we know very little about Tura's personal life that cannot be traced via the paintings he has left behind. I could not uncover if he ever married, had children or any other personal information beyond what is here.
Selected Paintings by Tura