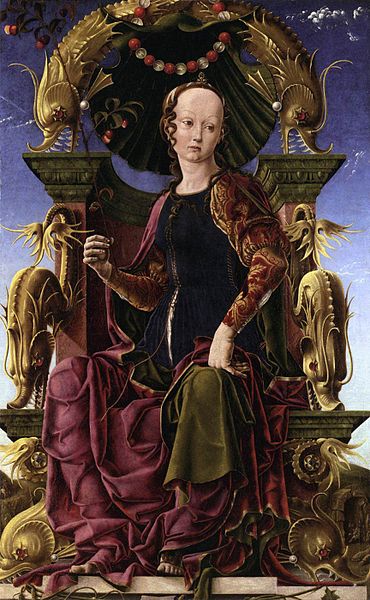 Such an imposing figure this lady makes. With a stern look on her face, the Muse, perhaps Calliope appears to be looking down on the rest of us. Surrounded by fierce mythological mammalian figures, she just exudes power and perhaps conveys a bit of fear to the observer. Calliope is featured in Greek mythology. She was the muse of epic poetry, daughter of Zeus and Mnemosyne and thought to be Homer's muse.
The Italian Renaissance painter Cosimo Tura (1430-1495) most likely painted this Muse for a study in the home of the d'Este family and was most likely hung high up on the wall. When viewed from below, the perspective seems more correct and the lines of her body seem more fashionable and a bit less fierce but far more dramatic on her architectural throne.
This Italian Renaissance painting measures 116cm tall and 71cm wide and is was painted on poplar wood with tempura.
To learn a bit more about the artist and see additional examples of his work, please visit our Cosimo Tura biography.