…by the famous artist Elias van den Broeck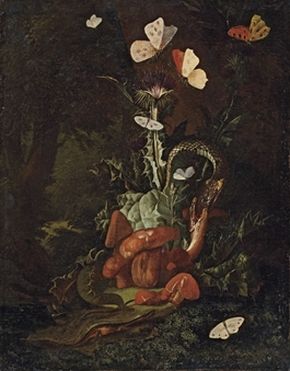 Interesting landscape painting with thistle, fungi, moths, a lizard and snakes by the Dutch Golden Age painter Elias van den Broeck (1649/50-1708). Like many still life paintings a central image is painted on a dark background with splashes of almost white colors the moths providing light over the whole work. This oil on canvas was undated.
To learn more about this artist and see several other of his famous landscape paintings, please visit our biography on Elias van den Broeck.
Please Note: This photograph of a public domain painting is from the Christies.com website and an auction held in 2008 in London. Under British law, this photographic copy of the public domain masterpiece by Elias van den Broeck, has an active copyright in England. Please use this image accordingly.