…by the famous artist Elias van den Broeck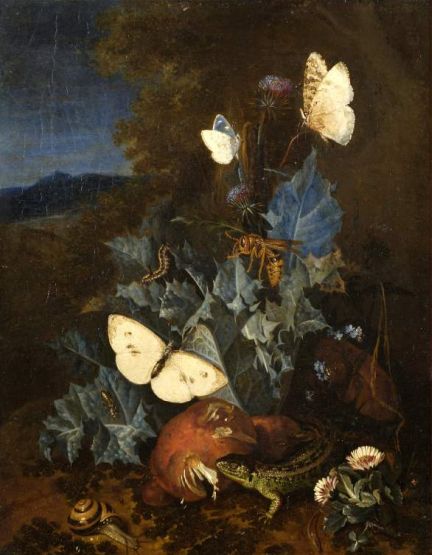 Still-life with a thistle, boletus, snail, lizard, butterflies and a bee in a landscape painted by the Dutch Golden Age Painter Elias van den Broeck (1649/50-1708). This oil on canvas has a number of insects and creatures. The lizard at the bottom is enjoying a boletus or mushroom and the other creatures seem to be exploring the flowers and plant life included in this painting. The butterflies are painted in a yellowish, almost white color and provide high contrast in what is otherwise a fairly dark painting.
You can learn more about the artist and his other works by visiting our biography page for Elias van den Broeck.
Please Note: This painting was housed and the photograph is provided by the Fitzwilliam Museum in Cambridge, UK. In England, they hold a current copyright on this picture despite the painting itself being in the public domain. Please use this image accordingly.