…by the famous artist Elias van den Broeck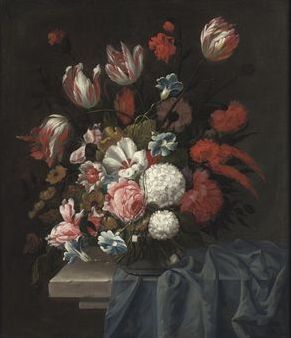 Dutch Golden Age painter Elias van den Broeck (1649/50-1708) oil on canvas still life of a bouquet of flowers on a stone table. The bouquet includes red and white striped tulips, pink roses, pink poppies and a variety of other red, white and pink flowers. A few flowers and the tablecloth are blue. The auction catalog from Christies identified this painting as, Tulips, Roses, Poppies and other flowers in a glass vase on a stone table.
To see more beautiful still life floral paintings and learn more about the artist, please visit our Elias van den Broeck biography.