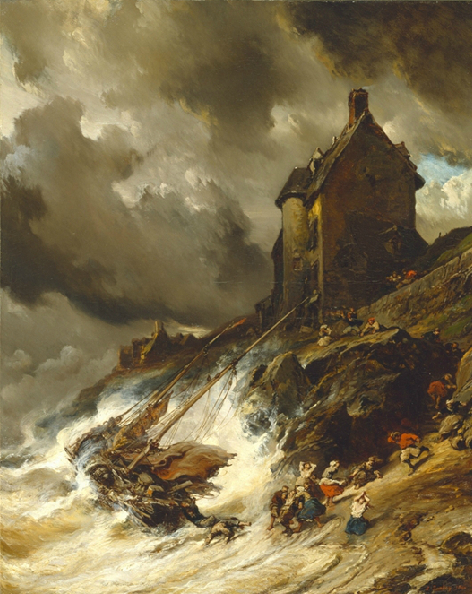 This is one of several paintings by the French artist Eugene Isabey (1803-1886) depicting a shipwreck. In this painting, entitled "The Wreck", Isabey provides us with a bit of hope among the despair in the form of a small bit of blue sky. As people run towards the floundering ship, the doomed lay strewn upon the rocks. Whether the people are running to the disaster to save the sailors or to take advantage of salvaging the ship and its cargo is unclear but it does appear that at least one man is being helped from the water. On a promontory high above the chaos is a foreboding structure seeming to remain above the fray while standing silent witness to it all.
Isabey completed this oil on canvas maritime painting in 1854. This seascape measures 38 x 30 in. 96.5 x 76.2 cm, unframed.
Isabey is most well-known for his seascapes but The Famous Artists also has some examples of his other genres. To learn more about the artist and see additional examples of his work, please visit our Eugene Isabey biography.