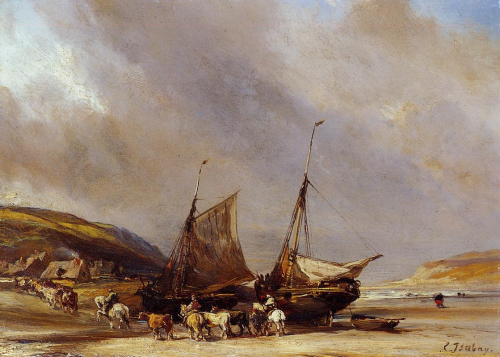 This is a wonderful example of the work of the French Romantic painter Eugene Isabey (1803-1886). Isabey enjoyed numerous stays in Normandy and was known to favor painting right on the beach, en plein air.
It is his maritime art that Isabey is most remembered for. This painting from fairly early in his career dates to around 1830. It is an oil painting on a wood panel depicting the unloading to two sailing ships. A line of horses and oxen lead the way back to the village with an unknown collection of goods from somewhere across the sea. The two ships sit upright in the sand after the tide has rolled out and left them grounded. The painting is a bit dark and gloomy which is quite common in French paintings during this time.
To learn more about Isabey and to view more of his work, please visit our Eugene Isabey biography.