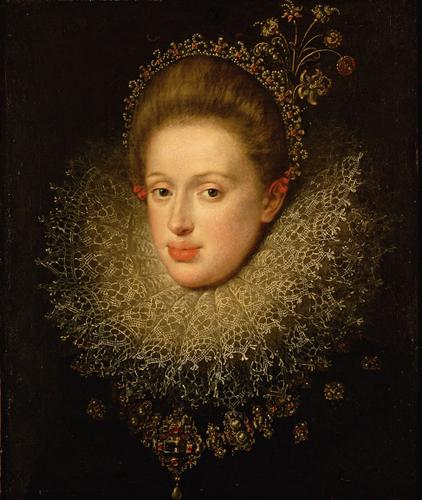 In 1604, German painter Hans von Aachen (1552-1615) painted this portrait of Anna of Austria-Tirol (1585-1618).
Anna was the wife of Matthias, the Holy Roman Emperor. She was the Holy Roman Empress, German Queen, Queen of Bohemia and Queen of Hungary. He was already over 50 when they married and they had no surviving children.
To me, this portrait is particularly lovely for the fine detailing of her lace ruff collar and the jewels which adorn her hairpiece and clothing. Her eyes appear to be looking at you as if from across the room in shadows rather than across the centuries.
To learn more about the artist and see more of his famous paintings, please visit our Hans von Aachen biography.