Home » Vermeer, Johannes
Johannes Vermeer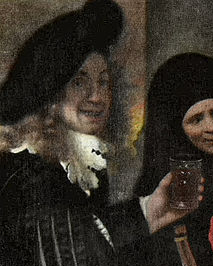 By the Sixteenth Century, Holland was a conservative, middle class Protestant democracy. The painter Jan Vermeer could no longer rely upon commissions from an organized church (religious art was now frowned upon) or patronage from court aristocracy.
Dutch painters began painting scenes from the everyday world but with a decidedly spiritual air. They were able to paint what they wanted but the ability to sell their pieces to the merchant classes became an over-riding influence. Painting, as a profession, was somewhat restricted and the new freedoms made the profession more accessible to artist. This created far more competition and required artists to paint what their new customers demanded.
Jan Vermeer, while a struggling artist much of his life, did leave behind an impressive inventory of images of seventeenth Century furniture, lavish clothing and what society considered beautiful women. He glorified commonplace objects as if they were sacred.
But, who was Vermeer? He was born in 1632 and baptized as Johannes. There were several painters also named Vermeer. There was Van der Meer of Utrecht, the two Van der Meers of Haarlem as well of Van der Meer or Vermeer of Delft. Sadly, their works are often lumped together as the work of the same artist.
Vermeer grew up among artists and his father had an art business. Some historians believe that Carel Fabritius, a student of Rembrandt, may have been Vermeer's first teacher. Others believe that their styles varied too much for that to be true. When Fabritius died from a nearby explosion of a powder magazine, Vermeer traveled to Amsterdam to visit Rembrandt's studio accoring to M. Thore, writing under the pseudonym W. Burger, about the museums of Holland. Perhaps having been exposed to a variety of artists, in his own home, led to the artist being able to pick and chose elements from a number of artists he admired to create his own unique style. Vermeer inherited the art business upon his father's death in 1652.
Vermeer gained a wife and a new religion in 1653. Marrying his Catholic wife, Catharina Bolenes, required that he convert to Catholicism. Her wealthy mother demanded that he covert before consenting to the marriage. Some scholars doubt that he actually converted but one of his works contained elements that were scorned by the Protestant order. Of course, the painting could have simply been crafted to a Catholic patron's wishes and not a symbol of the artist's own faith.
At the end of 1653, Vermeer joined the Guild a Saint Luke, a trade association for painters. He would head the guild in 1662, 1663, 1670 and 1671. One would assume that such an honor meant that Vermeer and his work was held in high regard by his peers.
At an unknown date, the couple moved into the mother's home in Delft where Vermeer lived the rest of his life. Vermeer may have been a member of the Jesuit church which had a 'hidden' church near their home. They had fourteen children, but four of them did not live long enough to be baptized. They named their surviving children Maria, Elisabeth, Cornelia, Aleydis, Beatrix, Johannes, Gertruyd, Franciscus, Catharina, and Ignatius (perhaps for the founder of the Jesuit order).
During hard economic times, Vermeer died in 1675. Catharina blamed financial pressures for her husband's death. Sadly, she had to sell many of his paintings and possessions to simply pay off her husband's debts, including a substantial one for delivered bread for their 8 surviving children.
Vermeer was something of a slow painter. He produced only three paintings a year. Perhaps it was the confusion caused by so many artists named Vermeer painting during the same era or his being left out of Houbraken's history of Dutch Painters that led to many of his works being hidden away in storerooms or lost to history. The artist was well-known during his lifetime, so it seems odd that many of his works were unidentified as late as the mid-1800s.
We have Burger Thore to thank for what we know of Vermeer's life and for the uncovering of many of his paintings. He discovered Vermeers hidden in the galleries of Berlin, Brunswick, Cologne, Dresden and Vienna. Vermeer's most famous work, Young Lady with the Pearl Necklace was discovered and purchased by Thore before making its way to the Royal Picture Gallery Mauritshuis in The Hague.
The self-portrait of Vermeer is from his larger work The Procuress.
Selected Paintings by Vermeer