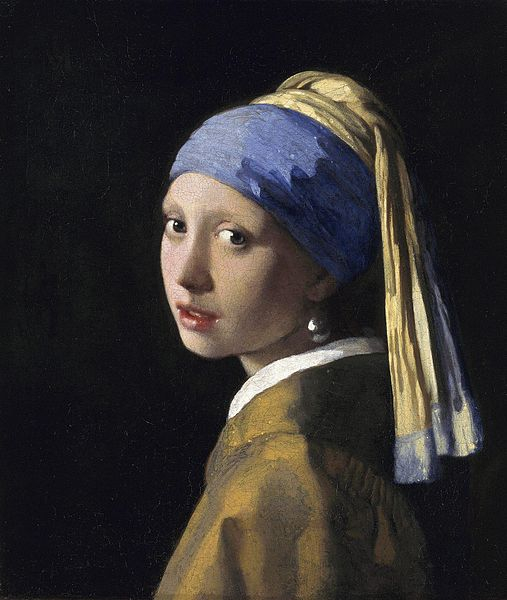 How could anyone talk about the paintings of Jan Vermeer without including the painting which is most associated with his name? Girl with a Pearl Earring is quintessential Vermeer. He often painted in warm yellows and dark blues and those two colors feature prominently in this work.
Jan (Johannes) Vermeer (1632-1675) was a Dutch painter, who without the work of a 19th century scholar may have been forgotten. Yet, after being ignored for almost 200 years, this painting is now perhaps one of the most recognized works of art in the world.
Like Vermeer, very little is known about this masterpiece which is sometimes referred to as "the Mona Lisa of the North" or "the Dutch Mona Lisa". The work is signed "IVMeer" but left undated.
This is one of those arresting paintings that, to me, showcases how important the eyes are to human interaction. Vermeer's subtle coloring and light on the eyes make the observer feel like this young girl is truly looking at you. More than any other aspect of the painting, I keep finding myself drawn to her eyes.
To learn more about the artist and view more of his work, please visit our biography of Jan Vermeer.