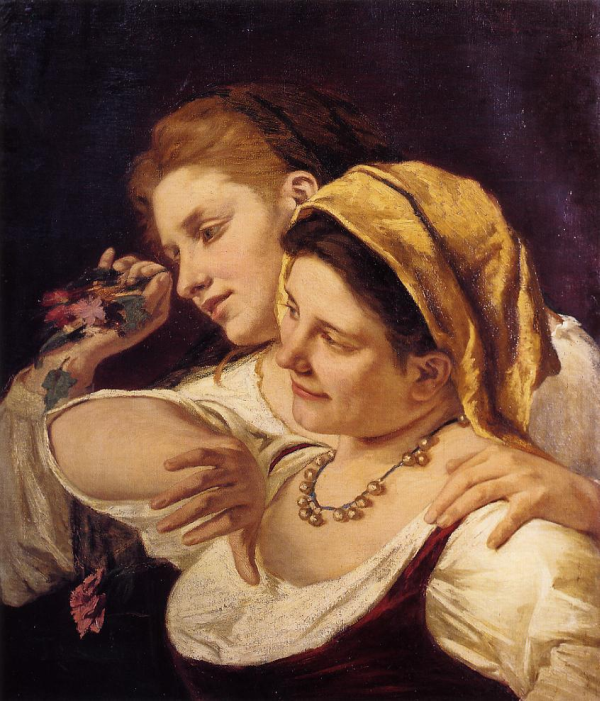 When Cassatt traveled to Parma, Italy with fellow American painter Emily Sartain (1841-1927), neither woman expected that they would become minor celebrities within the Parma Academy. We know from several of Sartain's letters that Cassatt was given a vacant studio in which to work and that members of the faculty and students watched the young Cassatt work on her submission for the Paris Salon of 1872. Sartain tells of staff using any excuse possible to get closer to the American Impressionist artist and Sartain's chagrin of being overshadowed by Cassatt. Cassatt had become something of a local celebrity and she was besieged by invitations by the well-to-do and even royalty.
Two Women Throwing Flowers During Carnival was begun before the Parma Carnival season but Cassatt had been to a number of similar events in Paris and Rome. Quite often, young women, perched in balconies above the streets would throw flowers down to gentlemen they were interested in. In Cassatt's painting we have two young Italian women throwing pink flowers, presumably down to gentleman they are interested in.
Cassatt was in Parma to complete a commission for the Archbishop of Pittsburgh. She was to copy two of Correggio's paintings. The warm colors and style of Two Women Throwing Flowers During Carnival are said to be quite reminiscent of the work of Correggio – the tilt of the ladies' heads was specifically mentioned. It has the dark background of more traditional work and pre-dates her transition to painting in the Impressionist style and later work with mothers and their children.
This painting was sold at the Paris Salon and remains in a private collection.
Want to learn more about this American Impressionist painter and how her efforts help to build the collections of several American Art Museums? Visit our biography of Mary Cassatt to learn more.