Home » Cassatt, Mary
Mary Cassatt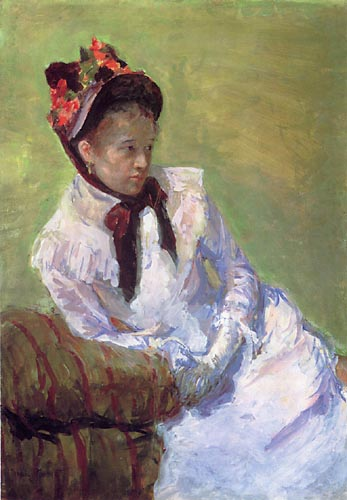 It seems commonplace for art scholars to attempt to somehow offset the work of female painters by insisting they were only successful due to the male artists they studied with or who promoted their work. With the American Impressionist Mary Cassatt, it is unclear if she received formal instruction from more influential male artists. She did, however, benefit from a friendship with Edgar Degas. That relationship was far from one-sided – she was instrumental in bringing his work to the United States. As I learned more about Cassatt, it became clear that she more than held her own in a male dominated field and could be credited with new techniques, changing how Americans viewed art and even helped to change history. She, along with Marie Bracquemond (1840-1916) and Berthe Morisot (1841-1895), would become known as the three "grand dames" of Impressionism.
Early Life
Mary Cassatt was born in 1844 to a wealthy Pennsylvania family. Her art education began during these travels when her family visited many of the world's greatest museums. The Paris World's Fair of 1855 most likely introduced her to a number of French artists who would greatly influence her style and become life-long friends. Before the family returned to the United States in 1855, Cassatt would come to know Jean-Baptist-Camille Corot (1796-1875), John Désiré Courbet (1819-1877), Edgar Degas (1834-1917), Eugéne Delacroix (1793-1863), Jean-Auguste-Dominique Ingres (1780-1867) and Camille Pissarro (1830-1903). The family returned to the United States later in 1855.
In 1860, Mary enrolled in the Pennsylvania Academy of Fine Arts. While the Academy accepted female students, the male students and even the faculty resented them. They were prohibited from working with real models; after all a lady could not be exposed to something as shocking as the nude male form. Cassatt knew she would never become a professional artist in such a hostile environment and decided to move to Paris and direct her own studies.
Mary's father feared a move to Paris would lead to her becoming a feminist and adopting a bohemian lifestyle. History tells us that her father was half-right in his fears for his daughter. He was so adamant against the move that he once said that he would almost rather see her dead than as a professional artist living in Paris. Her father finally agreed to let her go but stipulated that her artistic endeavors would have to be self-supporting. In 1866, chaperoned by her mother and sister, Mary moved to France.
The Road to Becoming a Professional Artist
At this point, historical accounts of Cassatt's life begin to diverge. Several say Cassatt began a course of self-study by copying the works of the great masters on display in the Louvre. Several mention the barring of women students by the École des Beaux-Arts pushed her to develop her skills on her own. Copying the works of the masters was common at the time. In fact, the famous museum had to limit the number of "copyists" who would spend their days among the exhibits. Cassatt met fellow artist Elizabeth Jane Gardner (1837-1922) at the Louvre and Gardner would meet her future husband there.
At least one scholar, Nancy Mowll Mathews has Cassatt studying with Jean-Léon Gérôme (1824-1904), then joining a class taught by Charles Joshua Chaplin (1825-1891) in 1866 and studying with Thomas Couture (1815-1879) in 1868. Biographer Margaret Breuning suggests Cassatt studied on her own until her family insisted she enter Chaplin's studio. Chaplin conducted art classes specifically for women. Cassatt's father never accepted her chosen profession. It would therefore seem unlikely that he pressured her to undergo formal painting instruction. Other historians say Cassatt worked in isolation until she was befriended by Degas in 1877.
Forbes Watson and the Whitney Museum of American Art collaborated on a biography of Cassatt. He had the benefit of interviewing Cassatt and I tend to lean towards his conclusion that Cassatt was primarily self-taught. Watson visited Cassatt, at her home, a number of times. Watson's description of the lady he met matches that of the historians. Despite embracing an art form often associated with dilettantes and a bohemian lifestyle; Cassatt always remained a lady. Watson described her as a refined hostess who seemed to prefer acting as a guide to the local sites over talking about herself. He met her near the end of her life and had been with her for several hours before realizing she was virtually blind. Her mistake was that of a lady offering her guest some jam, if there was any on the table that was between them.
The Work of Degas & Its Influence
In a letter to Louisine Elder, who would later become Mrs. H.O. Havemeyer, Cassatt recalls pressing her nose against the window of a gallery to get a better look at the work of Degas to study his technique. She felt his work changed her life. The Salon and society continued to cling to the Realist style and Cassatt was finding it extremely unsatisfying. After seeing Degas' work and the new Impressionist style, she wrote "I saw art then as I wanted to see it!"
She purchased one of his pastels and several small paintings. It would be years before they would meet or he would become famous. As an American, Cassatt was not readily accepted into the social circle of the Impressionists and was on her own as she developed her skills and embraced the new painting style. As Breuning puts it, "She became his disciple, never his pupil, making a patient and absorbing study of his work." Cassatt had purchased one of Degas' pastels and several small paintings several years before he became famous or they had met.
Etchings
I'm not sure if this is another example of the art world's hesitation in giving too much credit to female artists or simply a bit of confusion with dates. The question here is when did Cassatt begin etching and was it Degas who introduced her to the form.
Cassatt often made etchings on copper plate as preparatory studies for her paintings. Some in the art world believe her skills in etching and drypoint exceeded her painting skills. I found one scholarly work that mentioned Degas and his reaction to her work before he met her, "I do not admit that a woman can draw so well."
Degas is particularly well-known for his etchings and many historical accounts do not have Cassatt producing etchings until she met him.
Some in the art world believe her skills in etching and drypoint talents exceed her painting skills.
Her First Salon Showing

A Mandoline Player was Cassatt's first work accepted for the Paris Salon. It was part of the 1868 exhibit and she would become one of the first American women artists to exhibit in the Salon. She submitted the work using her mother's maiden name of Stevenson, rather than displease her father.
Return to America
In early 1870, Mary and her mother were living in Rome. French artist Charles Bellay provided Cassatt with studio space to work on her submission for the Salon. The Franco-Prussian War would drive mother and daughter out of Italy and back home to the United States. Her father welcomed her home but refused to pay for any of her art supplies.
She tried selling her work in New York without success. She would move to Chicago and try selling her work there but it didn't sell. Worse yet, her paintings were destroyed in the Great Chicago Fire.
Cassatt began to question her ability and considered giving up painting. Fortunately, the Archbishop of Pittsburgh offered her a commission to copy two of Corregio's paintings. He financed her trip to Italy and she traveled with fellow Pennsylvania artist Emily Sartain (1841-1927).
In 1871, Cassatt continued her self-designed education. She spent time in Italy, France and Spain. She studied the works of Correggio (1489-1534) and Parmigianino (1503-1540). Two years later, she visited Belgium, Holland and Spain where she would study the works of Diego Velázquez (1599-1660), Peter Paul Rubens (1577-1640) and other old world masters.
Mary Cassatt, The Impressionist
1877, The Year Everything Changed
Cassatt's parents and sister Lydia joined her in Paris in 1877. She was becoming more and more frustrated with the politics of the Salon. True to her outspoken nature, Cassatt was critical of the jury process. She defied convention by using bright colors and depicting her subjects as they appeared – artists were generally expected to enhance the appearance of their models rather than paint them true to life. Female artists were expected to curry the favors of the jury members and Cassatt publicly denounced this practice as well. Sartain cautioned her against such public statements.
Whether it was due to her use of unconventional colors and a more realistic representation of her models or her public criticism of the Salon; 1877 would be the first time in many years she was not included in the Paris Salon exhibition. The work, that was unacceptable in 1877, would be accepted by the Salon a year later once Cassatt made the background of the painting a darker color.
In May, Degas invited Cassatt to exhibit her work with the other Impressionists in what had become known as the Salon des Refuses – an annual exhibition staged by the Impressionists who had been refused by the Salon. She left behind the Realism style she had come to loathe and began to embrace the Impressionist style and the style of painting out of doors or in Plein Air.
1877 would also be the year when Mary Cassatt began what would become a life-long project to bring more depth to American art collections. Despite having spent time in New York, Chicago and Philadelphia; Cassatt found Americans to be lacking in examples of fine art for young students to learn from. She began her efforts by encouraging family friend, Louise Edler Havemeyer, to acquire works by Degas, old world masters and the French Impressionists. Those works would become the basis for the famed Havemeyer Collection.'
As Cassatt became more intrigued by the Impressionist style, she was also welcomed into that tight-knit society of French Impressionist artists. While she did socialize with her fellow artists, she never fully embraced their bohemian lifestyle and ever remained a lady. She participated in the 4th Impressionist Exhibition in 1879. Her work received mixed reviews but she was also a participant in the 1880, 1881 and 1886 exhibitions. Her paintings primarily depicted her family (mostly Lydia), the theater and the opera.
Cassatt's brother, Alexander, was a successful businessman back in the states. In 1880, Cassatt advised him to purchase several works by Degas as investments. He would also buy paintings by Pissarro and Claude Monet (1840-1923) based on her recommendations.
I suspect the gap in Cassatt's participation in the Impressionist exhibitions between 1881 and 1886 had something to do with the Lydia's death in 1882. Several biographers mentioned that Mary had stopped painting for a while after that loss. However, this was also during the time that Cassatt and Degas opted not to participate in the 7th Impressionist Exhibition. Gustave Caillebotte (18481-1894), Paul Signac (1863-1935) and Georges Seurat (1859-1891) wanted to close the exhibitions to new artists. The last Impressionist exhibition was held in 1886 and was financed by Cassatt, Degas and Berthe Morisot (1841-1895).
Ironically, the split with the French Impressionists may have led to the first Impressionist Exhibition in New York which helped to introduce the art form to American art collectors. It was held in April of 1886. Alexander Cassatt lent two of Mary's paintings to the exhibition.
Japanese Influence
America, in the mid-1800s wanted to expand their trade into Japan. In 1853, Commodore Perry sailed into Tokyo harbor with two steamers and two sailing vessels under his command. He insisted that the island nation trade with them. Without a navy of their own, the country, who wished to remain isolated from the world, was forced into signing treaties with much of the world rather than risk fighting a war they knew they could not win.
Along with trade goods, Japanese art began flowing into the western world. Their use of color and artistic style fascinated many artists, including Cassatt and the other Impressionists. She would be inspired by the April 1890 exhibition of over 700 Japanese prints, scrolls and other objects at the École de beaux-arts. In 1890, Cassatt began working on The Bath, The Letter, The Fitting and seven other color drypoints and aquatints. Cassatt blended the Japanese design with that of the Impressionists. (Impressionists did not use black so she used light pastel colors instead. Some art historians believe her blending of the two styles made a lasting contribution to the graphic arts.)
Cassatt's Modern Madonnas
In 1891, Cassatt accepted a commission to paint a mural for the World's Columbia Exposition scheduled for 1893 in Chicago. Her work, entitled Modern Woman, was 12ft by 58ft triptych (3-panel piece) displayed along with Mary MacMonnies' (1866–1946) Primitive Woman in the Woman's Building of the exposition. The panels of Cassatt's piece were entitled "Young Girls Pursuing Fame," "Young Women Plucking the Fruits of Knowledge or Science," and "The Arts, Music, Dancing." Despite being somewhat separated from the rest of the Exposition, the Woman's Building was one of the most popular attractions at the fair. It was an exciting time where woman were becoming more active members of society; holding jobs outside of the home and earning university degrees. Two years later Idaho would be the first state to grant women the vote.
The mural is thought to be some of Cassatt's best work. She incorporated the bright colors of the Impressionists with the Japanese style she had come to favor. Sadly, the mural was destroyed at the end of the Exposition and only her initial drawings and a few photographs remain.
Cassatt's first solo exhibition in the United States was held in the gallery of Durand-Ruel in 1895. It received both commercial and critical success.
It wasn't socially acceptable for women to paint men. Cassatt, like many other women painters of the time often painted women and children. Around 1888, her style began to change and she changed the way artists portrayed the bond between mothers and their children. She somewhat split from the Impressionists and began painting more and more in her own style. With the drypoint, Gardner Held by his Mother, Cassatt began her extensive series of works of mothers and their children. Her intimate maternal portraits capture private moments of everyday life. She made no attempt to beautify or otherwise pretty-up the portrayals. The women in her paintings often appeared tired, frustrated or contemplative. Yet, the connection between the mothers and their children was clearly on display.
Cassatt's mothers would come to be known as Modern Madonnas.  It is one of these works, Children Playing with a Dog from 1907 that garnered $6.2 million at a Christies' auction in 2007 – – the most ever paid for one of her works and the 8th highest price ever paid for a work by a woman artist, at the time.
Later Years
Degas and Cassatt had often been seen as a couple. He admitted to considering marriage but felt no physical attraction for her. In 1912, when she decided to sell his portrait of her, she described it as having "some qualities as a work of art but it is so painful and represents me as such a repugnant person that I would not want anyone to know that I posed for it." It remains unclear if her dislike for the painting ever extended to Degas. It was said that after he abandoned several group projects, one which was to feature etchings by Cassatt that their personal relationship somewhat chilled but that they did remain friends until his death in 1917.
Failing eyesight forced Cassatt to give up printmaking. She worked almost exclusively with pastel crayons until 1914-1915.  Her eyesight had been progressively getting worse for years. Cataract surgery was unsuccessful and she was virtually blind. With her greatest love no longer available, Cassatt continued her efforts to promote young American artists and was a supporter of the women's suffrage movement. Her lifelong friend, Louise Havemeyer was a prominent suffragette. In April, Cassatt lent 18 pieces to be part of an exhibition in New York held to benefit the suffrage movement. Degas would also lend a number of his works to the exhibition. The exhibition also included a number of old master works, presumably on loan from Havemeyer and other private collectors supportive of gaining women the right to vote.
Some Cassatt biographies suggest that Cassatt's last years were unhappy ones. The loss of her ability to paint was said to have caused her great pain. Biographers, who actually met Cassatt, seem to indicate that wasn't true. They do mention she had a sense of loneliness about her; perhaps through out-living her friends and family. Yet, those biographers who met her in her final years make it a point to say that she retained a keen interest in art and life up until her death.
On June 14, 1926, Mary Cassatt died in her French chateau Beaufresne. Cassatt never married or had children. Cassatt biographers tend to agree that she intentionally did not have a family. She believed that if one were to truly devote themselves to their work, they would not be able to do so with divided loyalties.
Mary Cassatt Self-Portraits
It appears that Mary Cassatt only painted two self-portraits. The one included in our biography of Cassatt was painted circa 1878 and is owned by the Metropolitan Museum of Art in New York.
Lasting Legacy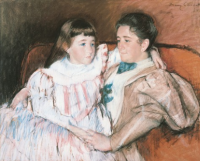 Mary Cassatt is of course remembered for the wonderful paintings, etchings and drypoints she left behind. What many do not realize is that without the efforts of Mary Cassatt, Louise Havemeyer and other American art collectors would not have brought so much art from Europe to the United States.
When Cassatt was young, there were few art museums in the United States. Most of the art collections in the country were privately held. Cassatt believed that with great works being virtually inaccessible to young American artists, they had no choice but to leave the country to learn their craft. (The Philadelphia Museum of Art would not open until 1876.) She would use her family's connections and her own circle of friends to encourage wealthy Americans to begin accumulating Impressionist works as well as paintings by old world masters.
Many of the private collections Cassatt helped to build would later be donated and bequeathed to American Museums. At her death, Louisine Havemeyer bequeathed 142 works to the Metropolitan Museum of Art and an additional 1,825 works would be given to the museum by her family. The Havemeyer's daughter, Electra Havemeyer Webb founded the Shelburne Museum in Vermont in 1947. It features primarily American art and historical buildings. The Shelburne has works by Cassatt (including this portrait of Louisine and Electra), Degas, Édouard Manet (1832-1883) and Claude Monet and is the only public exhibition of Impressionism in Vermont.
Honors & Awards
Cassatt was made a Chevalier of the Legion of Honor in 1904, one of France's highest honors and one generally reserved for French citizens. (Cassatt would never become a French citizen despite living there most of her life.)
The Art Institute of Chicago awarded Cassatt the N.W. Harris prize for her painting A Caress in 1904. She refused the $500 prize. Cassatt was a member of the Independents in Paris. They eschewed prizes and did not participate in exhibitions patronized by the government. The Institute agreed with her suggestion to give the prize money to some American art student who was studying abroad.
She was elected as an associate member of the National Academy of Design in 1914. She was awarded the Gold Medal of the Pennsylvania Academy of the Fine Arts in 1914 which, according to Watson, was the only honor of this kind that she ever accepted.
Cassatt's work appears on seven U.S. stamps – The Boating Party, Breakfast in Bed, Young Mother, Children Playing on the Beach, On a Balcony, and Child in a Straw Hat and a portrait of the artist.
Further Reading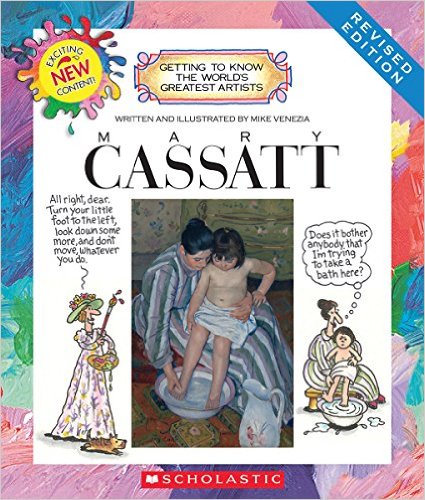 For anyone with young children, I recommend the Getting to Know the World's Greatest Artists series by Mike Venezia. His book on Mary Cassatt is designed for the younger reader and takes them through the artist's life. The book is filled with Venezia's own descriptive artwork to explain the challenges Cassatt faced as a woman in the male-dominated world of art and being a ground-breaking Impressionist artist.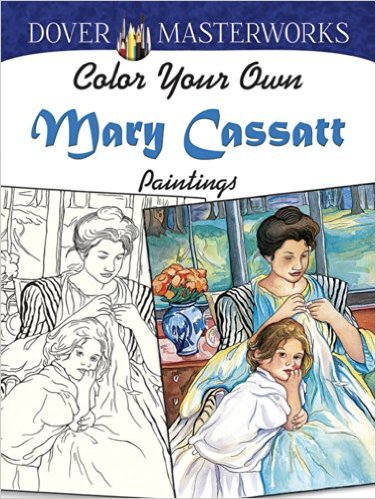 Marty Noble and Dover Publications released Dover Masterworks: Color Your Own Mary Cassatt Paintings in 2014. You can follow in the footsteps of many of the world's greatest artists by copying their works. This booklet gives you a head start with much of the drawing outlined by Marty Noble. With full-color versions of Cassatt's original paintings, you can copy the originals or add your own artistic touches to a number of her most well-known works. The pages are perforated and printed only on one side.
The illustrations include Cassatt's The Bath, Young Mother Sewing, Mother's Kiss, In the Omnibus, Maternal Caress, Gathering Fruit (a piece similar to the World Columbian Exposition mural), and 26 other read-to-color renderings.
Selected Paintings by Cassatt