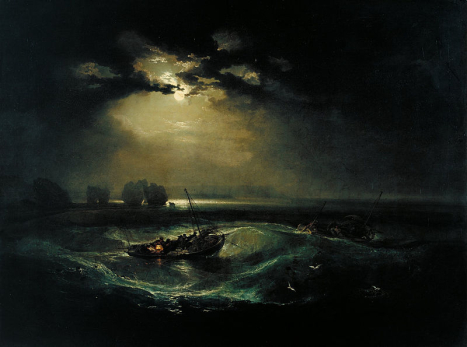 Of the many William Turner paintings that I've seen, this is one of the darker ones. The theme of a storm-tossed sea is a common one among Turner's portfolio. Yet, there seems to be hope for these intrepid sailors and their small boats as the moon shines brightly through a break in the storm clouds.
J.M. William Turner was a British landscape painter who lived from 1775 to 1851. His work is characterized by swashes of watercolor-like colors which turn the sky into something often ethereal or mystical. We don't have as much of that with this maritime painting that he completed in 1796, but we do see an interesting play of light and darkness as the moon puts an almost spotlight-like glow upon one of the boats.
To see more examples of Turner's art as well as learn a bit more about the artist, please visit our biography of William Turner.