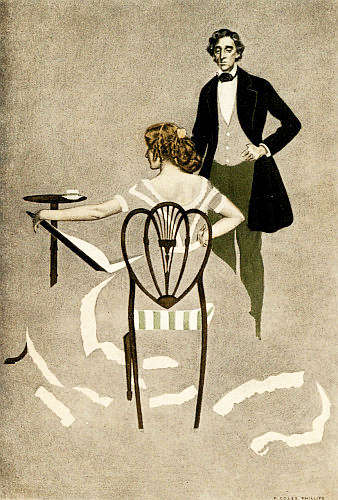 C. Coles Phillips (1880-1927) was an American artist who worked primarily in advertising, creating numerous magazine covers and advertising images. He is thought to have invented the Fadeaway Girl technique in 1908. This drawing that appeared int the Gertrude Atherton book The Gorgeous Isle was published in 1908.
Phillips' technique of using the same color for the background and the clothing of a lovely young woman was originally used by Life Magazine as a way to limit printing costs – the fewer colors of ink used, the less expensive the artwork was to print. I have no doubt the same thriftiness would extend to books.
In this Phillip's drawing, we have a long woman seated in an ornate, yet simple chair. She holds a large book in her lap while her suiter looks on from a few feet away. Typical of Coles Phillips' Fadeaway Girls, this young woman's dress is primarily the same color as the background and yet, Phillips provides enough details that we can easily fill in the negative space and define the edges of her dress.
For the record, this illustration did not have a title. In the interest of keeping things on The Famous Artists as easy to find as possible, this lovely lady will be known as Fadeaway Girl 3 for no other reason than she is the third such image I've posted here.