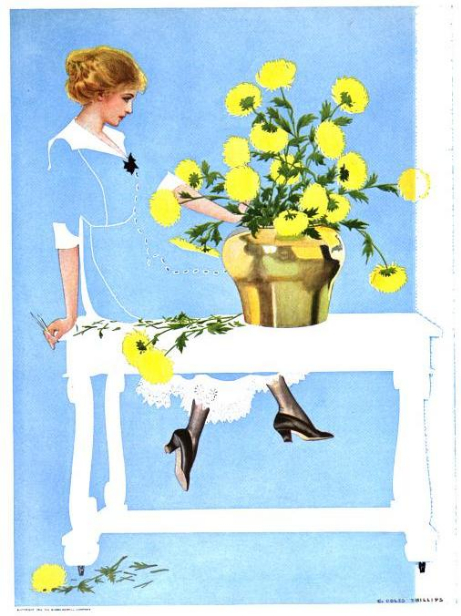 In 1912, C. Coles Phillips (1880-1927) was at the pinnacle of his career. He had been named the sole cover artists for Good Housekeeping magazine and had been drawing fadeaway girls since 1908.
This wonderful fadeaway girl was included with a number of others in a book of poetry published by the artist entitled A Young Man's Fancy. He dedicated the work to his wife and perhaps one or more of the wonderful drawings scattered throughout the text was of her but unfortunately the work doesn't say so one way or another.
In this drawing we have a pretty young women in a blue and white dress on a blue background working with large yellow flowers. With a scissors in her hand and flower trimmings on the table she is sitting on and the floor below, she attracts your eye even though so much of her dress is faded away into the background. The golden pot and the bright yellow flowers enhance rather than compete with the lovely young women. Her black shoes and dark stockings peek out in between the table legs and are framed by her lace petticoats. Phillips had several contracts with hosiery companies and perhaps this piece had originally been intended for use as a print advertisement.
Want to see more famous art like this one? Check out our section dedicated to Fadeaway Girls. And also be sure to check out our biography of C. Coles Phillips to learn a bit about the artist and see his Fadeaway Girls and advertising pieces.