Home » Volk, Douglas
Douglas Volk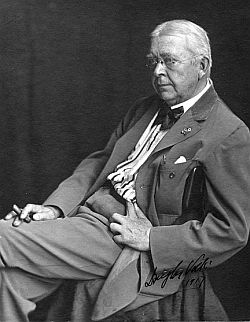 (Stephen) Douglas Volk, an American painter most well-known for painting landscapes with American themes (Colonial and Puritan life) and life-sized portraits, was born in Pittsfield, Massachusetts in 1856. It is believed that he was named for his mother's cousin Stephen A. Douglas. His father, Leonard, was a well-known sculptor who created a number of significant statues and memorials after the Civil War including statues of his friend President Abraham Lincoln and cousin-in-law Stephen A. Douglas. He also made one of only two life masks of Lincoln.
With such a famous sculptor in the house, it seems like it would be destined for Douglas to follow in his father's footsteps. Despite growing up in a house surrounded by art in Chicago, Douglas didn't start painting until fourteen. At fourteen, his family traveled to Rome where he was a student of the Saint Luke Academy. He later studied at the Ėcole des Beaux Arts and was a pupil of J.L. Gérôme in Paris from around 1873-1877.
He was only 19 when his landscape painting "In Brittany" was shown at the Paris Salon. He was one of the youngest artists participating in that year's exhibition.
While studying under Gérôme, Volk became friends with George de Forest Brush and the pair traveled back to America with each other. He was in New York in time to participate in the Centennial exhibition in 1876. But, he returned to Paris and resumed his studies under Gérôme. His portrait of "Miss T" was shown in the Salon of 1878. He also traveled throughout England on a "sketching tour" and spent much of his time in Warwickshire.
He returned to New York and in 1879 was offered a professorship. From 1879 to 1884, Volk taught at the Cooper Institute in New York. He later served as Director of the Minneapolis School of Fine Arts and helped to establish that institution. He remained in Minneapolis for seven to eight years. His influence in the American educational system should be mentioned as well as his essay on Public School Art Instruction published in 1894. From his opening paragraph, "The aim of art instruction in the school should be to develop in the pupil a sense of unity or harmony and to cultivate within him a regard and love for truth and beauty." we see a lament that unfortunately is still applicable to today's schools. The pamphlet outlined an innovative new method for teaching art in public schools which focused on learning proper technique.
Volk became a member of Society of American Artists in 1880 and of the National Academy of Design in 1899.
In 1919, Volk was one of the eight American portrait painters selected by the National Art Committee to create a pictorial record of decision makers during World War One. The portraits were of the distinguished leaders of America and of the allied nations and were part of the Exhibition of War Portraits. The portraits were displayed at The National Portrait Gallery and a number of American cities. Volk contributed the portraits of King Albert of Belgium, Premier Lloyd George and General Pershing."
Douglas and Marion Larrabee married on June 25th, 1881. They had four children, Leonard Douglas, Wendell, Gérome and Marion.
The couple started the Sabatos Handicraft Society in Center Lovell Maine where they had a summer home. The Society became well-known for their New England style rugs. The name Sebatos is taken from the neighboring, wooded Mount Sebatos.
Marion, upon discovering that her neighbors were still practicing traditional New England rug making techniques, developed what a Maine Library Commission Bulletin described as a "rug industry of value" and produced "a rug purely American, entirely handmade, and equaling in color, design, durability and workmanship of oriental rugs."
Rather than using the traditional material of fabric scraps, the Volks introduced the use of wool scraps. Douglas helped his wife to develop "soft, harmonious tints" for the vegetable dyes used in her rugs and created a number of rug designs. Their daughter Marion and older son Wendell joined the Society and were skilled rug weavers.
The Volks offered advice to others wishing to establish their own rug making firms as long as they made the entire rug by hand and used natural vegetable dyes. Each summer, his home "attracted to Massachusetts many literary, artistic and musical people and has become an artistic center from which radiates much that is of value to the state."
He retired from teaching at the Cooper Union and the Art Students' League in 1899 and permanently moved to his summer home in Maine where he continued painting and completed a series on Abraham Lincoln. Douglas Volk died in 1935 in Fryeburg, Maine.
Selected Paintings by Volk